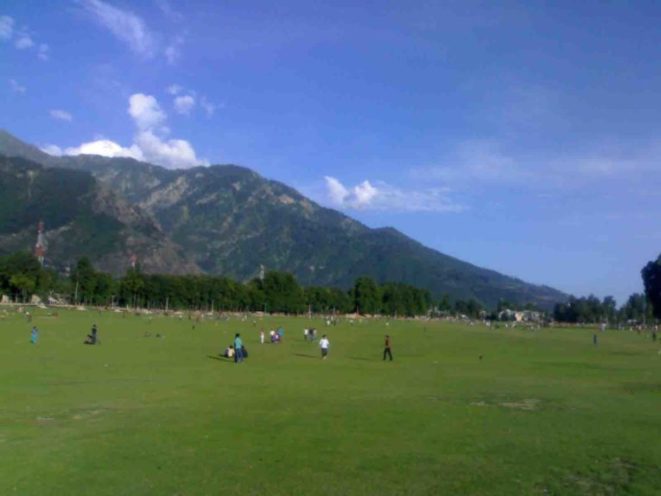 Kishtwar is known by several names:
1. Samarth Garh
2. Goverdhansar
3. Mahakali Garh
4. Lohit Mandal
5. Pohie
6. Cheerhar
7. Bhot Nagar
8. Kishtavata
9. Kishtwar
Existence of Kishtwar town and Mandal goes back to Mahabharata time when it was called 'Lohit Mandal' meaning ' a place of Saffron' although 'Lohit' has ceased to be used  now but 'Mandal' still exists and is the name of the villages in the vicinity of the town. According to some historians it was previously called 'Kashyapwas' meaning the place of 'Kashyap Rishi'. It was this great saint who on the basis of his spritual powers, got the water of 'Goverdhan Sar' drained off which made Kishtwar a place worth living. The theory that Kishtwar, prior to its existence, was a lake known as 'Goverdhan Sar' is corroborated with the fact that area between TRC and village Sangrambhata is still calleg 'Gudhansar'. Sar in sanskrit means 'Lake'.
With the passage of time the name 'Kashtwarak' also has been used for the present Kishtwar. Kishtwar has a sigbificant historical importance as far as its antiquity is concerned in fact, the name Kishtwar is the 'Prakrit Version' of the sanskritised names 'Kashtwarak' and 'Kashtnivarak'.
Kishtwar is a land of Sapphire and Saffron. This place is surrounded with mountains, dense forested and sloppy hills which gives amazing and fascinating look to this place. It has so beautiful landscapes. It has also occupied a place on the tourist map of India. Its height is about 1700 mtr. above from sea level. It is connected from rest of the country through NH1B near Batote. The waterfall of Potinag on the opposite side of NaginShero cliff which is 4090 meters above sea level which remains covered with snow throughout year gives the fascinating look to kishtwar. Kishtwar have a beautiful ground popularly known as CHOWGAN surrounded by various types of trees. The area of this place is near about 520kanals. In ancient times, Chowgan is known as Goverdhansar Lake which is full of water. Kishtwar is located at a distance of 216 kms from Jammu. Kishtwar district is one of the beautiful districts in the state. The legend has it that Kishtwar got its name from an ancient sage, KishatRishi, Kishtwar stands out for its natural beauty that is further enhanced by the numerous waterfalls surrounding it. Kishtwar is popularly known as "Land of Sapphire and Saffron".
The Chander Bagha (Chenab) river is so wonderful that one becomes surprised to see its jumps from a distance. The area of Kishtwar is approx. 7824sq.km and population of kishtwar is approx. 1,92,009 souls as per census 2001. Kishtwar is the place where people are not only of different races, but of different ethics and culture also. There are many holy places in this district. Some famous springs (locally known as Nag) of Kishtwar are Gudresh Nag, Pooti Nag and Kumai Nag. Many precious stones are found in this area are Sapphire and Quartz which is found in Padder and Ruby Gems in mountainous area of Kishtwar. Kishtwar a nature's paradise needs road connectivity and up gradation. The whole region has fabulous potential for tourism industry which has been neglected for decades. Jammu and Kashmir is hailed as the crown of India. There is one particular area in state J&K which is called Kishtwar.
Kishtwar one among the newly created districts when the Chief Minister of state G.N.Azad had taken a historic decision in July 2006 for creation of the new district It has the unique distinction of being one of the biggest districts of the state in area just next to Leh and Kargil districts. Its area is almost one half of the total area of eleven districts of the valley and one third of the area of the Jammu region which too has eleven districts. Population of Kishtwar district is around 2.5lakh. History geography, topography, demography, area and population define the status of a place or region. With an area of nearly 8,000 Sq. Kms., Kishtwar is almost mountanious like that of Himachal or Ladakh region. District Kishtwar has its bound aries touchiong the valleys of Himachal in the south east and Doda on South-West. The entire district is full of mountains, forest and hills. Hindus, Muslims and Sikhs all resides here with amity and brotherhood. The district has four tehsils namely Marwah, Padder, Chatroo and Kishtwar with headquarters at Nauphachi, Atholi, Chhatroo and Kishtwar. Almost entire districts receives snowfall during a good winter. Habitation is found even at altitude of 9,500ft. Kishtwar is full of hidden charm, wonderful sites and spots, health resorts, tourists locations famous historical and religious places, sacred shrines and monuments.