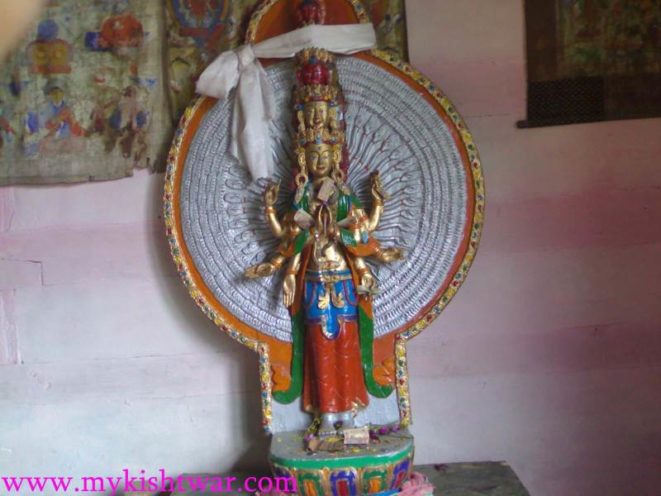 Kishtwar district has the distinction of having a population of about 7000 Buddhists in the upper reaches of Tehsil Padder. Recently a 'Buddhists Center' was inaugurated at Gulabgrah by the Buddhist religious head Dalai Lama on 5/6/2010 amidst a congregation of about 25000 Buddhists drawn from Padder, Ladakh, Himachal Pradesh etc. According to historians, Buddhism flourished in Nagseni area of Kishtwar in 2nd centuary B.C. and a conference on Buddhism is said to have been held at Village 'Bhattan' of Nagseni. The great Buddhist scholor, Nagsen of 'Milida Panho' fame is also said to have been born here. Yet, it is very surprising that, presently not a single family professing Buddhism lives in Nagseni area. Presently some villages of Padder tehsil of Kishtwar district bordering Ladakh on one side and tribal areas of Pangi and Lahul Sipti of Himachal Pradesh on the other, are inhabited by Buddhists. Villages namely Hango, Haloti, Machail, Lusseni, Dangail and Suncham in Machail Valley border Ladakh and Kargil while Kabban, Tun, Charkhoni etc. border Himachal Pradesh. The Buddhists habitations, due to their distinctive customs and traditions and way of life, have the potential to attract tourists of various interests.
On the entry to every Buddhist village you have to pass through a stone gate called 'Manidwar'. The stone walls leading to the village have the pictures of Lord Buddha and Saints like 'Wajar Pani' made on them. You will also find flags of white cloth fluttering along the path and also on the roof tops named as 'Darshod'. The flags have the pictures of 'Munnies' and also some edicts written on them. Buddhists believe that these flags keep the evil spirits at bay and don't allow these to afflict Buddhists-homes. Buddhists are deeply religious, god-fearing and possess virtues like truthfulness, simplicity, honestly and piousness. Their places of worship are called 'GUMPAS' and their religion heads as 'Lamas'.
In Padder Tehsil of Kishtwar district prominent
Gumpas
are situated at Gulabgarh, Haloti, Kabban and Tun. These are constructed either on a hillock or a prominent place, visible from the surrounding area. These are two/three storied and look like fort from a distance. Each Gumpa houses a place of worship and a separate block used as a residence of the Lamas. All these 'Gumpas' have been constructed in Ladakh/Tibetan style and artesian from Ladakh or Tibet have been engaged in building the prominent among them. The work in stonemasonry and wood carving is very attractive. The engravings of the pictures of Lord Buddha, Acharyas and Munnies and also the goddesses with colorful paintings are superb and eye-captivating. Large sized idols of Lord Buddha, Shakti Munni and Sidhacharyas like Padam, Sambhv, Rattan Bhat, to name a few, made of sparkling copper stand in the middle of the worship place. Walls depicting oil-colored pictures of Lord Buddha, Shakti Munni and other Acharyas, Goddesses like Tara, Gandhari, Saraswati etc. add to the charm of the 'Gumpas'.
Every 'Gumpa' on its entry gate, has a revolving wheel known as 'Dharm Chakra' fitted on the pillars. The devotees have to rotate it with the belief that it rids them of their misfortune. Its rotation is considered as beneficial for relieving them of ominous situations. The devotees pray in front of the large sized idols of Lord Buddha, Munnies and Goddesses led by the Lama. During prayer, a loud drum beating is also undertaken and oil lamps in small silver cups are also lighted. The lama residing in the Gumpa performs all the religious ceremonies of the villagers and also acts as their teacher and guide. Each Buddhist family offers cooked food, first to the Gumpa and later consumes it. The Lama is held in high esteem. He acts as an arbitrator in all village affairs and as a judge also. The Buddhist families bear all the expenses of the Lamas. A lama is always absorbed in mediation, recitation of Mantras, telling hid bead and study of scriptures. He is an embodiment of the virtues like truth fullness, frankness, simplicity, piety, honesty and a high degree of spirituality.