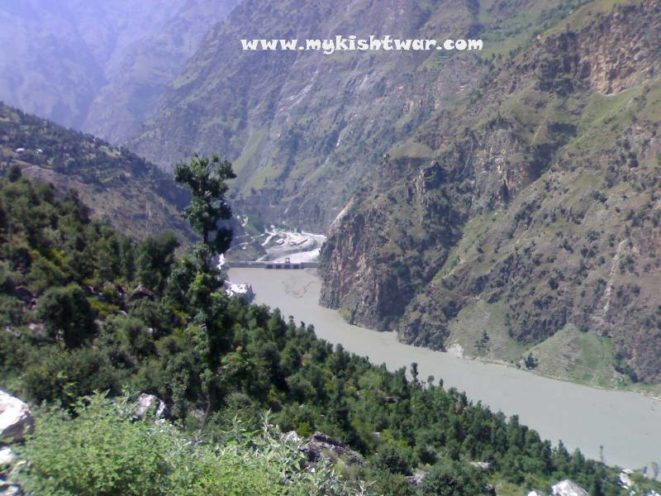 Dr. Manmohan Singh, Honble Prime Minister of India dedicates 390MW Dul Hasti Power Station to the Nation
Dr. Manmohan Singh, Hon'ble Prime Minister of India dedicating
390 MW Dul Hasti Power Station of NHPC Limited
to the Nation in Kishtwar, Jammu & Kashmir on 26.4.2008
The Dul Hasti Hydel project involves the installation of three generation units of 130 M.W. each, in Kishtwar district. The plant will annually generate 1,928 million units of electricity, which will be sold to Jammu & Kashmir, Himachal Pradesh, Punjab, Haryana, Delhi, Uttar Pradesh, Rajasthan, Chandigarh and Uttaranchal. 
The Dul Hasti Power Station is a run of the river hydroelectric scheme located on the river Chenab envisaging generation of 390 MW of power. The Power Station is 240 kms. away from Jammu, the nearest railhead. Dul (Dam site) is 22 kms. and Hasti ( Power House site) is about 15 kms. from the Dul Hasti Project headquarters at Kishtwar.

The main components of the Dul Hasti power station are a 65 m high and 186 M long Concrete Gravity dam across the river Chenab, a 10.571 km. long Head Race Tunnel, a restricted orifice type, 18.25m dia and 90m high Surge Shaft, one 6.7 m dia and 311.4 m long Pressure Shaft, an underground Power House with three generating units of 130 MW each and a 7.46m dia and 307 m long Tail Race Tunnel. The annual electricity generation from the Power Station is 1907 million units in a 90% dependable year. The Power Station is providing peaking power to Northern Grid.
Alstom Projects is the EPC contractor while Jaiprakash Associates is the civil contractor. The total cost of the project is estimated at Rs 4,228 crore.
  The construction work on Dul Hasti Power Project was completed in March, 2007 and by 7th April 2007 all three units of the project were put on spinning. It was created by NHPC and JP Company workers. Both of these companies are tie up with each other to complete this project. It started generating more than 390 M.W. electricity. This is the greatest achievement in the history of Kishtwar. 
  On 26th April, 2008 the prestigious Dul Hasti Hydel Power project was dedicated to Nation by Dr. Man Mohan Singh Prime Minister of India. Lt. Gen. (Retd.) S.K. Sinha, His Excellency the Governor of Jammu & Kashmir, Shri Sushilkumar Shinde, Hon'ble Union Minister of Power, Prof. Saifuddin Soz, Hon'ble Union Minister of Water Resources, Choudhary Lal Singh, Hon'ble Member of Parliament ( Lok Sabha), Shri Ghulam Nabi Azad, Hon'ble Chief Minister of Jammu & Kashmir, Shri Babu Singh, Hon'ble Minister of Power, Jammu & Kashmir, Shri G.M. Saroori, Hon'ble Minister of State , Jammu & Kashmir, Shri Anil Razdan, Secretary (Power) , Govt. of India, Shri S.K. Garg, CMD, NHPC and a host of other dignitaries were present on the occasion.

The Dul Hasti Power Station has been instrumental in bringing overall development of the nearby area by providing direct and indirect employment opportunities to the local population, development of roads, communication system, establishment of Nursery Schools, Kendriya Vidyalya, hospital etc. The Power Station has played a key role in getting widening of Batote-Kishtwar National Highway NH-1B( 110 kms.) and Kishtwar – Dul Road (16 Kms.) by funding the Border Roads Organization.