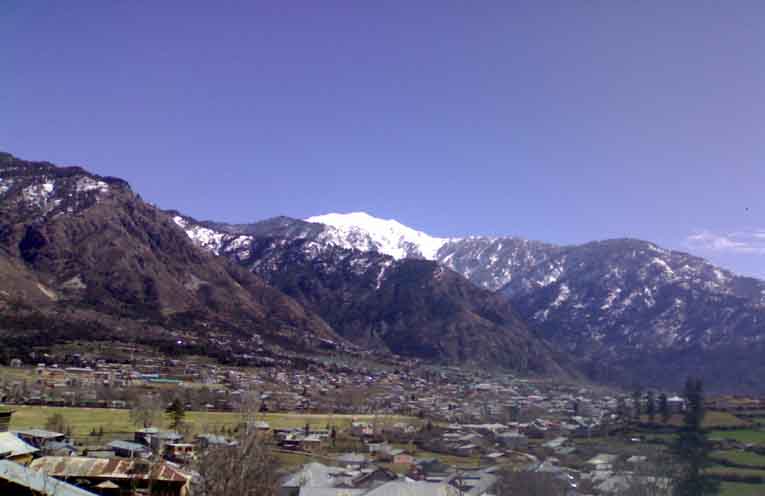 From Nowapachi onwards, the bridal path towards Warwan ascends through dense forest, thick plantation and luhgreen pastures. Horse riding is enjoyed by many on this path as its plain and suitable for such ride. After traveling a distance of about 24 kms we reach Dassbal, a village better called 'The Gate way of warwan Valley', at an altitude of more than 7000ft from sea level. The village is inhabited with Shia Muslims who have migrated to this place from Zanskar area of Kargil district. They have their own customs and traditions, quite in contrast to the majority Sunni Muslims of Warwan valley. 6 kms. ahead of Dassbal is Inshan, the headquarter of Warwan block.
About the verdent and the smiling valley of Warwan words fails me to describe its natrual beauty. Infact Warwan valley surpasses all other beautiful places located in this tourists circuit. The 15-20 kms stretch of Warwan valley from Inshan to Sukhnai is plain with lush green meadows on either side of the river 'Mariv Sudir', which meanders through the valley in a zig-zag manner, forming beautiful natural parks where tourists can pitch their tents during summer months and enjoy their stay in the serene, cool, soothing and pollution free atmosphere.
Mariv sudir at warwan is known for producing a high quality of Trout's. Fishing as a trade can be encouraged here for the economic benefit of the people. Villages Inshan, Branyan, Mul-warwan, Basmina, Margi, Gumri and Sukhnai are the main villages of warwan block. The wood-roofing of the ouses resembles that of Kashmir valley villages. This is done in a way to safe-guard the houses from the vagaries of rough weather and heavy snowfall during winter. As warwan valley has an atitude of more than 8000 ft from sea level, so the place is colder than Marwah and plantation is scarce and high altitude crops like 'grim', 'codra' etc. are grown. Potatoes are in plenty and very tasty. As the area contains a number of high altitude alpines pastures so thousands of bakkerwal families migrate from plains of Jammu and also from Kashmir valley to tend their flocks of sheep and goats and herds of cattle. There is, thus, a great hustle and bustle in warwan during summer. Horse riding is the best hobby here. High breed horses are available here.
Mariv Sudir at warwan is ideal for the organization of water sports like river-rafting, kaya-king, water skiing and canoeing. The slopes between Gumri, Rikanwas, Margi and basmina are ideally suited for winter sports such as skiing, Ice-skating, ice-hockey etc. The area of hitherto, unexplored and without road-linkage, if developed.
The famous mountain peaks of 'Nun' and 'Khun', 7135 mtrs and 7877 mtrs high respectively, can be reached easily from tthe Sukhnai village of warwan by crossing 'Lanwilla' pass. From Inshan the ascending motor able road leads us to Margan top at a height of 4470 mtrs above sea level and thence from the descending road takes us to Anantnag in the Kashmir valley.