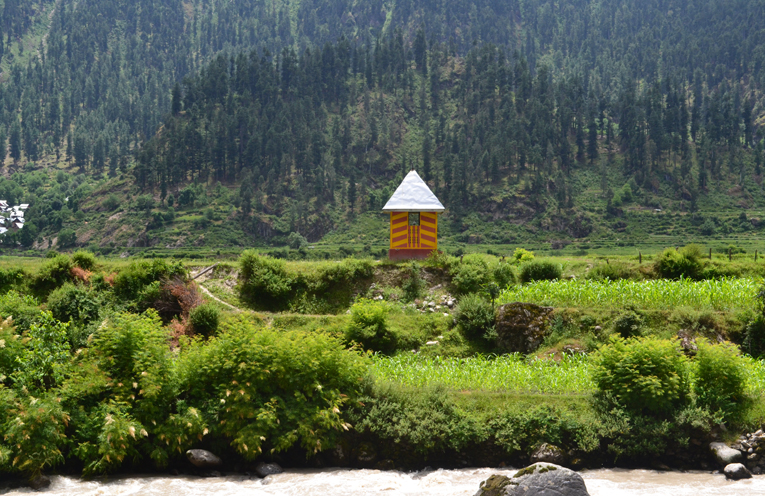 The tract of Ekhala to Hanzal is known as Dachhan. It is a land locked area quite independent of either Marwa or Kishtwar although it has been a part of Marwa tehsil. On the upgradation of Marwa nibat as tehsil in the year 2005, Dachaan was given the status of Niabat under Marwa tehsil. Previously it was a pargana of erstwhile Kishtwar tehsil. It has an area of 100.50sq. Kms. out of 873 sq kms of Marwa tehsil comprising five revenue villages of Chichal Dachhan, Lohrna, Janakpur, Lopara and Sonder. It has nine Panchayat Halqas and four Patwar halqas. Panjdara, the cheif village of Dachhan, is situated on the left bank of Mariev Sudher river. The river bisects the valley into two with better half of population on left side.
It joins ChanderBhaga at Bhandarkoot. The bridal path from Ekhala to Sonder in Dachaan, a distance of about 15kms. passes through a dense without having any habitation except at Pinjari village which is situated about a kilometer from road side at Lohlu. Likewise from Lopara to Hanzal another 15 Kms. tract is also covered by forests without any habitation in between. Thus Ekhala is the gateway to Dachhan from Kishtwar side and Hanzal is the gateway to Marwa from Dachhan side. The distance from Bus stand Kishtwar to Panjdhara by foot is about 50 Kms. Thus Dachhan is geographically neither linked to Kishtwar nor to Marwa. It is a separate entity. Lofty hills stand guard ovet it on all sides. Snow clad Brahama peaks 6416 and 6110 meter, Sickle Moon 6775 meter, Thunthur or Crooked Finger 5710 meter and Arjuna peak 6200 meter above sea level all enhance the beauty of Dachhan and Beckon on the trekkers to lead expendations on these high mountains. Except Sickle Moon none of these mountain cliffs have so far been scaled.
Dachhan branches out in three "NALAS" called Nanth Nala, Kibber Nala and Kiyar Nala. All these 'nalas' have habitations on higher reaches.Kibber Nala which branches off near Sonder village is a famous nala for its antiquity. Nanth Nala is a highly revered valley as the holly sacred places like rahmsar, Kaikut Wooden Temple, Trisandhiya, Hud Mata and Bathastal cave are located in this valley. Brahmsar, a small lake of icy cold water, is surrounded by all the peaks of Brahama mountain. Pilgrims come to this place for having a dip in its water during summer months for their purification. The water of this lake flows through the middle of Sattarchin, a grassy maidan (ground) and about 4 Km. down below on the left side of the stream Trisandhiya stream occasionally flows down a hill thrice a day to join the main stream coming from Brahamsar.
Trisandhiya is a miracle of nature and a gift to humanity. Pilgrims come from far places to find an opportunity for a bath. Some get a chance to bath in a stream which is instantly seen receding upwards. Some return disappointed. On their way Brahmsar pilgrims offer their prayers in the temples of ud Mata and Kaikut Bathstal, a long shallow natural grotto is about a kilometer from Suid. It has a narrow mouth through which water flows and the visitor have to pass through a tunnel, with torches. However, this area has been ignored by the successive government and no effort seems to have been made to bring these parts of scenic beauty on the tourist map of India for their development.
Kiyar Nala is another valley branching off near Chhicha to Kiyar, a village at a distance of about 10 kms. from Panjdhara Dachhan. It has dense forest all along the route. Hot Springs are situated in this place. By climbing up a hill infront of Kiyar village on its right side one finds an easy access to Dehrna village of Marwa thereby saves a long distance in covering the route via Lopara to Hanzal village and then to Nowpachi, the headquarter of Marwa tehsil.