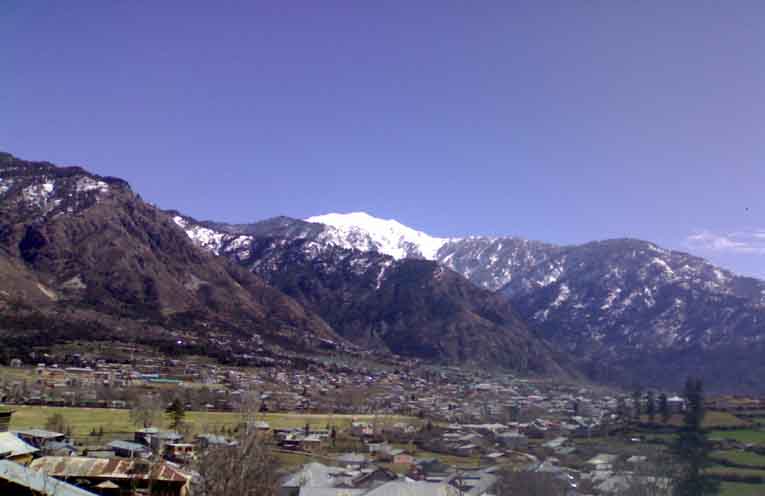 A trek of 25kms ahead of Sirshi along the banks of 'Mariv Sudir' up to village 'Hanzal', the gate way of Marwah is quite exhilarating and natural beauty is at its peak in this trek.
We can enjoy this journey on a horse back also if we wish so, as the bridle path, head of Lopara village of Dachhan is suitable for joy riding. We feel excited while coming face to face with nature. High rising mountains on either side of the path, dense forests with rich flora and fauna, gushing streams and water-falls and cool journey amongst dense forests and meadows are eye-captivating and soothing to the travelers. At village Hanzal, the toursist can have the night stay in the Forest-Rest-House available here.
Ahead of Hanzal, is the sprawling Marwah valley about 6-8 kms. Long and 6-8 kms. Wide comprising villages Teller, Chanjar, Nowpachi, Astaan-gam, Yourdu and Qaderna with 'Mariv Sudhir' meandering through it. The river of Mariv Sudir provides a lot of irrigative facilities to the farmers in producing maize and local variety of Paddy but the land is not suited for the production
of wheat and latest varieties of Paddy and pulses due to its high altitude which is between 6500-7000 feet above sea level. The cold climate of the place hampers agricultural production and as such the area is deficient in food items but its tourism potential is immense. Mariv Sudir provides the facilities of water sports such as water rafting and water skiing.
Engravings on rocks , remains of broken idols of Gods and Goddesses and 'Noans', at many places of Marwah point to some ancient civilization which got wiped off with the passage of time. There are rest houses at Nowpachi and Youdru for the stay of tourists. Nowpachi is the tehsil Headquarter and a beautiful village in Sylvan atmosphere. The 'Astaan' at Astaan gam village attracts devotees from all over Marwah. Here some relics of Hazrat Shah Farid-ud-Din Bagdadi have been preserved and are shown to the devotees on special occasions.