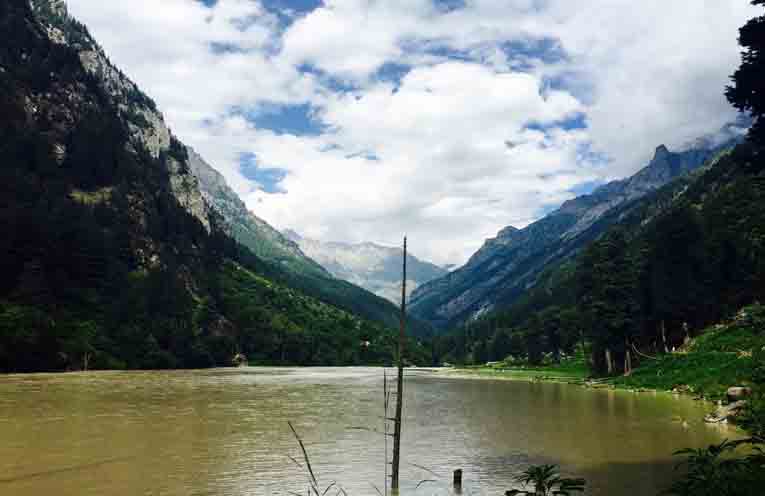 Author: Seetha Lakshmi
 Last year's Vaishno Devi yatra came in with some information and introduction to few new places of spiritual interests. It so happened that the driver who was driving us back to Jammu from Katra decided to explain how one of the Himalayan pilgrimage in the district of Kishtwar (~ 280km from Jammu) is about to start late July.. With all possible exaggeration he went on and on and on for the 60 odd kilometers we travelled. I just took what I wanted- yes! The name of the place and the name of the temple, rest all was for me to browse whenever I thought I was ready to befriend this new deity.
 Vaishno Devi for past 11 years in a row has been a wonderful experience in itself and every cell of my body longs to visit the shrine. No opportunities missed so far. Machail was playing at the back of my mind somewhere after I landed in Bangalore. Few weeks from there I spoke about the same to my better half (Kiran) –tried narrating all that the driver did. I have received all backing from him all these years to every place I wanted to visit, but this was one of a kind. So with no hopes I expressed my will to go. To my surprise he gave a nod immediately. I patted my back for the good job I did amplifying the little knowledge I had 😉 . I had to work backwards now to close on travel dates, getting my 13months old baby ready to stay without me for almost a week, apply leave and most importantly get physically ready to trek 32km through the woods. . Did my home work. Tried finding information on the internet and found a person who could help. He has written an amazing blog and seemed very passionate about his home town. Reached out to him for additional info and that kind soul ( Pradeep Parihar) helped in all possible ways.
This place Machail in Paddar is situated roughly 57km from the quiet and beautiful town of Kishtwar. The temple is open for pilgrims only during the month of August every year when the holy mace (Chhari) procession is carried out from Chinote –Bhaderwah to Machail. Thousands of devotees throng the tiny village during Chhari Yatra. Maa Chandi at Machail is believed to be a living Goddess. With mixed emotions I set out on this journey with Kiran and a good friend (Girish) of ours. Complete the journey before the Chhari reaches Machail was important as it would be heavily crowded and difficult for first timers like us. With this we boarded the flight to Jammu via Delhi and arranged for the same driver to pick us. At about 11am we started towards Kishtwar. The Driver says if we could make it to Kishtwar before 5pm then we would be allowed to move further. This is because of the terrain and the condition of mountain roads. It was pouring cats and dogs and resulted in a land slide after Udhampur. Alas we got caught in the well-known traffic jam on the Jammu-Srinagar highway due to this. Almost lost 4 hours with bumper to bumper traffic on the mountains. Managed to reach Kishtwar at around 11pm and had to halt overnight. Humanity still exists without any expectations in these mountains!! I was hesitant to call Pradeep at that hour as we didn't have any bookings to halt at Kishtwar. With no other option I did call him and he helped arrange for an overnight stay. Impatiently we went to bed as rest was much needed.
Early next morning we moved towards Gulabgarh which is the base camp and around 60km away from Kishtwar. Lovely drive with breathtaking views took us ~3.5hours to reach. Here we stand at the foot hills asking her to grant us health and energy to complete this yatra. Plan A was to push our limits and complete the 32km in a day and plan B was to halt in one of the villages if it's too much. But whatever the plan you choose there is no turning back. Every little group of houses they called village were at least 7-8km apart. Through the dense woods we start moving up the treacherous terrain with a chant of "Jai Mata di "to every fellow devotee you meet along your way. One can reach Machail only on foot crossing these mountains or the helicopter which decides to take a flight only if the weather permits. The few ponies that we saw enroute help carry eatables and necessary stuff the villages need. Entire
track is surrounded by lush green trees of Pine (Deodar & Fir). Our lungs were at work but with a heavy dose of pleasing fragrance from the Pine. Mmmmmmmmmmmmmmmmaaaaaaah!
You will find the two rivers Chandra and Bhaga with foamy water roaring & accompanying you while you traverse this long stretch. At about 7pm we reach Chishoti which was one of the village where the villagers could have offered shelter for the night in case we planned to halt. A little more said Kiran and Girish and we chucked our Plan B. Now as I said there is no turning back. The destination is still 3-4 hours away. We have been walking since 10 in the morning. With some food in one of the langer (free food organized by the devotees for the devotees) at around 11.30am and some fresh apples. It was still as bright as 5pm- no exaggeration! Cool breeze, unwinding birds back to their nest, the hamlets, rivers the fragrant Pine and the don't let go attitude of ours… we pushed ourselves or rather the mystical power in the air was helping us to the finish line. The last village also went by at around 8.30pm by then it was dark. Not once were we afraid of anything, neither the darkness nor the narrow path or the strangers. Being equipped for the terrain helped. We used our torchlight and continued our ascend. 2 more hours said a fellow traveler and I just sat there. Composed myself up again on my feet….few steps and then searching for a rock to park myself on it. I see a place lit up far ahead and there it was! Have we reached? No wait! We only collect our entry pass here! The volunteer at the counter says it's another mile or 2 from here. I literally couldn't move myself one step further. All exhausted I looked an old lady in her 80s with her son-in-law who was set out visit the deity , tired though she was, her undeterred faith helped her family and to an extent us to complete our journey. Thus we reach the shrine at quarter to eleven.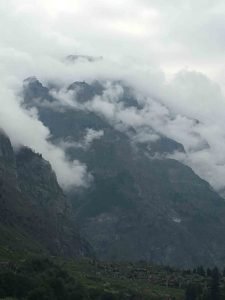 Hold on! It doesn't end there. The volunteer at the counter walks with us to the shrine and offers to help with accommodation and Darshan for free. The materialistic commercialized mean world we live in refused our brains to believe that there is no selfish motive behind the offer to help for FREE! We reach the Shrine and he introduces us to few other volunteers who see how tired you are and grab every bag from your hand and ask you to follow them. We consoled ourselves that the bags are gone for good now as we were in no position to run behind them. No network works except for BSNL and little did we realize that our pre-paid BSNL won't work. Battling pain, fatigue & limping with whatever energy left we followed the guys and hurrah! Our bags were intact and settled in the so called small clean accommodation in a dorm. This was adjacent to the Shrine and was one of the rooms kept for the Shrine board members and their families only. But why us? May we are dear to the diety and because we were aliens to that land! Only a hand full of devotees have visited Machail from this part of the country according to the local people. One of the trustee of the Shrine Board an elderly man (Lalaji) in his 70s welcomes us with folded hands, takes good care of us, provided dinner and gave every information to make our stay comfortable. The place lacks basic amenities including toilets and bathrooms –yet all possible care was taken so that our experience of visiting Machail is great! It's heartwarming to know that there are people on this planet in our very own country who are not greedy & are content with whatever little they have. No money was charged from us towards the dorm we stayed. The volunteers were apparently MBA students from Jammu who offer their services to the devotees visiting Machail Mata during the Chhari yatra season. We were mesmerized by the beauty of the place with Sapphire mines on one side and Shivji Pahad on the other. Though it may seem strange, but the localities believe in a legend that lord Shiva manifests himself through the rock that is perpendicularly perched upon a very hard bed on the Shivji Pahad which is not as yet reachable. Devotees consider themselves blessed if they can even catch a glimpse of the same amidst dense clouds.
We paid our obeisance and thanked the sacred Shakti residing there in form of Maa Chandi for all the good she has done to us so far and with a promise to come back again we boarded the helicopter the
next day to the base camp. With fond beautiful memories deep inside of me I returned to my nest in Bangalore. ☺ ☺
About the Author: Seetha Lakshmi from Bangalore works as a Enablement Manager with one of the leading software firms .She is a staunch devotee of Maa Durga. With a desire to visit all the 52 Shaktipeeth she has set out on a journey covering the length and breadth of India and she says Shaktipeeth or not Machail just happend !!
All images and content used in this article is copyrighted to the Author.