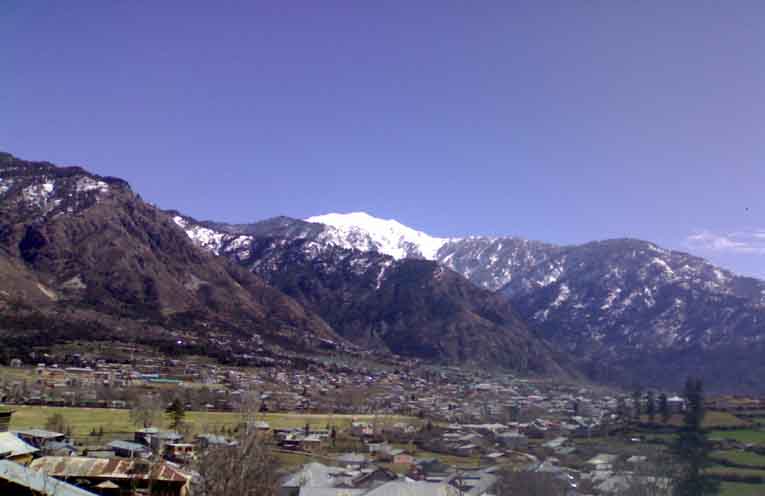 An indefinite curfew was clamped and Army called out in Kishtwar town and surrounding areas this afternoon after large scale incidents of arson, looting and violence were reported during the day in which two civilians were killed and 63 others were injured, four of them seriously, as a free for all situation prevailed for several hours due to complete collapse of civil and police administration, which gave the miscreants a field day, who indulged in open vandalism razing  shops, vehicles and various other commercial establishments to ground.
Twelve bore guns, petrol bottles, lathis and all other available material was used by the mob to set on fire shops, hotels, buses, petrol tankers, trucks, cars and other commercial establishments till 7 pm when Army formally moved and curfew was strictly imposed nearly five hours after it was announced.
Fear psychosis prevailed among the minorities, which could be well gauged from the fact that the injured civilians of the community were not admitted in the District Hospital, which was located in the area dominated by majority community and were instead taken to Army camps. Four of them were sent to Military Hospital, Udhampur in critical condition.
Army staged a flag march in all disturbed areas including Kishtwar town at 7.40 pm resulting into restoration of normalcy but tension prevailed among the minorities, who were frightened following large scale violence unleashed against them by the majority community in the morning leading to massive damage to their property including shops and vehicles.
Surprisingly, the free for all situation in Kishtwar continued even when Minister of State for Home Sajjad Ahmad Kitchloo, who happened to be local MLA of Kishtwar, was present in the town. Locals said the miscreants armed with guns, lathis and patrol bottles moved freely in the town and outskirts torching shops, vehicles and looting property without any check by the police, which acted as mute spectators as they reportedly had been directed not to fire at the mob, sources said.
Though the Army had moved in at around 12 noon in the day, they eventually took charge of the situation around 7.40 after Chief Minister Omar Abdullah spoke to Defence Minister A K Antony at about 5 pm.
Sources said two separate murder cases have been registered at Kishtwar police station in the two killings.
The urchins fired at the houses of minorities or those rushing for safety killing one of them on spot, who has been identified as Arvind Kumar Bhagat, 28, son of Des Raj Bhagat R/o Sangram Bhatta and injuring several others, four of  them with deep bullet wounds. The injured with gun shots were identified as Sunil Kumar, 27, Rinku, 18, both residents of Cheerji, Anju Singh, 30 R/o Kuleed and Sandeep Kumar, 15, R/o Dachan.
They were airlifted from Kishtwar to Batote and then shifted in Army Hospital, Udhampur as authorities feared that their admission in the Government Medical College, Jammu would flare up communal trouble.
Locals said police made no attempt to save the minorities from the miscreants. Police occasionally fired in air or resorted to rare tear smoking to scare the mob but to no avail as urchins moved from one market to another vandalizing the property of minorities and firing at the civilians . A hotel was also looted and a petrol tanker burnt. Mob tried to torch a petrol pump but later didn't do so anticipating damage to adjacent houses. They also damaged the Fire Brigades, which were trying to control fire in the shops.
The mob also attacked the house of a senior doctor  in Kishtwar town causing injuries to his family members including wife and daughter. The doctor  reportedly fired from inside to save himself from the mob fury.
The complete inaction on part of police administration  forced minorities living in majority community dominated areas to flee from their houses and take shelter in some safer areas as rampaging mob moved freely carrying weapons and lathis in their hands and targeting shops and business establishments.
The miscreants among the minorities then also started targeting the shops and other property of majority community burning and damaging them, leading to a complete free for all in the town. At one point of time, the two communities came face-to-face at Chowgan ground leading to massive exchange of stoning between them, which caused to injuries to a number of civilians.
Locals said the people also opened firing from inside their houses and outside  with 12 bore guns leading to the killing of one of them, identified as Arvind Kumar Bhagat, 28, son of  Des Raj Bhagat, a resident of Sangram Bhatta, Kishtwar.
Another civilian was burnt alive in Chowgan Ground. His body was lying in the Ground but his identity hasn't been established so far. Police sent his body to hospital tonight. He belonged to the majority community.
Sixty-three civilians were injured in the day long clashes. Four of them were referred to GMC Jammu this evening. The polarization can be ascertained from the fact that the injured from majority community were admitted separately in the District Hospital, Kishtwar while injured from minorities were being treated in Army camps and other places.
The vandalism continued even after Home Secretary Suresh Kumar, Director General of Police (DGP) Ashok Prasad, Additional DGP PL Gupta and IGP Jammu Rajesh Kumar landed at Kishtwar and camped at Kishtwar along with Minister of State for Home Sajjad Kitchloo, who was already in town in connection with Eid festival.
There was no official version in the day long violence in Kishtwar that took the toll of two civilians, causing injuries to 63 others and resulted in heavy losses of public property.
Divisional Commissioner, Jammu, Shant Manu, who took some questions from media at the all party meeting, admitted one fatal casualty of Arvind Bhagat but said he was yet to gather details of losses to public property. He admitted that curfew was imposed at 12 noon but could be enforced only around 7 pm.
Reliable sources, however, said that trouble erupted after about 1200 people from village Hullar were marching toward Chowgan Ground at around 9.30 am for Eid prayers shouting anti-national and provocative slogans against the minorities. When the procession reached Kuleed Chowk, the minorities objected to the raising of provocative slogans and asked the people to proceed peacefully.
The mob, which appeared to be well equipped and prepared with intentions of violence, reacted immediately and started targeting minorities at Kuleed Mohalla burning and damaging their shops and other property. They also sounded the people, who had gathered at Chowgan Ground. They too rushed towards Kuleed Mohalla and indulged in arson and violence, which soon spread to other markets of Kishtwar town and outskirts within few minutes.
By 10.30 am, it was completely free-for-all situation with the miscreants moving from Kuleed Chowk at Shaheedhi Road and Bus Stand setting shops, all kind of vehicles and commercial establishments of minorities on fire or ransacking and looting them. Even shops close to the officer of the Deputy Commissioner, Kishtwar and police station were torched and damaged in front of police, which watched the scene helplessly firing in air barely or lobbying few tear smoke shells. The Chief Education Officer's office was also burnt and damaged.
Sources said police was under pressure not to fire on the miscreants as it could lead to casualties among them. "Except for firing, there was no other option to control the mob," they added.
Around 1 pm, Deputy Commission, Kishtwar, Choudhary Mohammad Saleem sent a requisition to Army to move into the town to restore law and order. He also announced imposition of curfew. The police with assistance of SSB was not in a position to enforce curfew and by this time the miscreants from both the communities had started targeting each other's property.
At 2.30 pm, Army staged a flag march in Kishtwar but didn't take over control of the town on the ground that if they had to be called for maintenance of law and order they had to act tough. It was at 7.40 pm that the Army formally took control of the situation after taking in writing from the Deputy Commissioner on their deployment in the town and enforcement of curfew.
The Army then staged flag march in entire Kishtwar town and outskirts and strictly enforced curfew. Normalcy returned to Kishtwar after deployment of Army and the miscreants fled away to their houses. The minorities, who had deserted their houses, returned late in the evening after Army staged flag marches.
Surprisingly, despite large scale violence in Kishtwar for almost the full day leading to two fatal casualties, injuries to several others and huge loss of private property, the State Government, Police Department or even the district administration of Kishtwar didn't issue even a single line press note on the situation despite the fact that senior officers of civil and police administration apart from the Minister of State for Home were camping there.
Late tonight, the Government ordered that Divisional Commissioner, Jammu Shantmanu will hold inquiry into the incidents of violence and arson and the consequent loss of life and property that took place in Kishtwar today. He has been asked to submit his report within three weeks.
Even the reporters of minority community had to desert their offices fearing wrath of urchins and returned to their houses only after the Army staged a flag march and enforced curfew strictly.
Sources said Kuleed Mohammad market, which had only minority community shops, was nearly razed to ground. Some houses, which had been constructed atop the shops, also suffered damage in the fire.
Sources said the police watched helplessly the miscreants moving around with gun firing at the minorities killing one person and inflicting gun shot wounds on four others. In total, 63 persons were injured including the police personnel. Sources said identity of second dead person couldn't be established till late tonight. He had been burnt to death. His body was shifted to hospital tonight. He was stated to be a youth from majority community.
Barring four injured admitted in the Command Hospital, Udhampur with bullet wounds, condition of all other injured was stable.
While curfew was announced at 12 noon, it was formally enforced strictly when the Army stepped-in and staged flag march around 7 pm. Army staged flag marches at various places of the town to restore confidence among the people, which had badly been shaken on the local administration, both civil and police.
Excelsior received frantic calls from Kishtwar with people claiming that miscreants roamed freely with guns and lathis in their hands and no one from police bothered to arrest them or snatch their weapons. This, according to them, happened as police refused to act fearing that killing in the firing would lead to registration of Gool like murder case against them. For the fear, they reportedly allowed the people to be killed and injured and their property burnt and damaged.
Though the administration had no exact figure of losses, sources said over 100 shops, vehicles and other structures had been burnt or damaged during day long free-for-all vandalism by the miscreants.
The damaged and burnt property also included a hotel owned by kin of a PDP leader and a gun house, whose guns were allegedly used by the miscreants in shooting the civilians.
People alleged that the miscreants were intentionally given a free hand to burn, loot and damage the property of minorities by the "vested political interests" for the sake of "vote bank politics".
Meanwhile, Machail yatra was also suspended today due to violence in Kishtwar and would also remain suspended till curfew was lifted and normalcy imposed in the town. The vehicles carrying pilgrims of Machail Mata Ji, which had left Jammu for Kishtwar and Gulabgarh, were stopped at Patnitop and sent back.
The people strongly denounced the administration for not taking pre-emptive measures to prevent violence targeted against minorities in Kishtwar. They said the attack on Kalsh Yatra last month by the majority community, appearance of Afzal Guru posters and rumours of mysterious movement were clear indications of "impending communal trouble" but the authorities took no measures to protect minorities.
Further, they added, no action by police in the large-scale vandalism indulged by mob in Ramban in which office and residence of the Deputy Commissioner, Government and private vehicles were burnt and damaged after Gool firing encouraged mob to indulge in arson and looting.
Meanwhile, two companies of CRPF and three of IRP have been rushed to Kishtwar from Jammu to help in maintenance of law and order.
DC, SSP shifted
As a damage control measure, the Government tonight attached Deputy Commissioner, Kishtwar Choudhary Mohammad Saleem and SSP Kishtwar Sunil Gupta after large scale violence rocked Kishtwar town today.
Basir Khan, Director Panchayats in Rural Development Department has been posted as new DC Kishtwar while Sanjay Kotwal, CO 6 JKAP Draba, Surankote, has been posted as SSP Kishtwar.
Mr Saleem and Mr Gupta have been asked to report to General Administration Department (GAD) and Police Headquarters respectively.
The Government has also announced Rs 5 lakh ex-gratia in favour of the family of Arvind Raj Bhagat, who was killed in the mob firing.
Source : Daily Excelsior