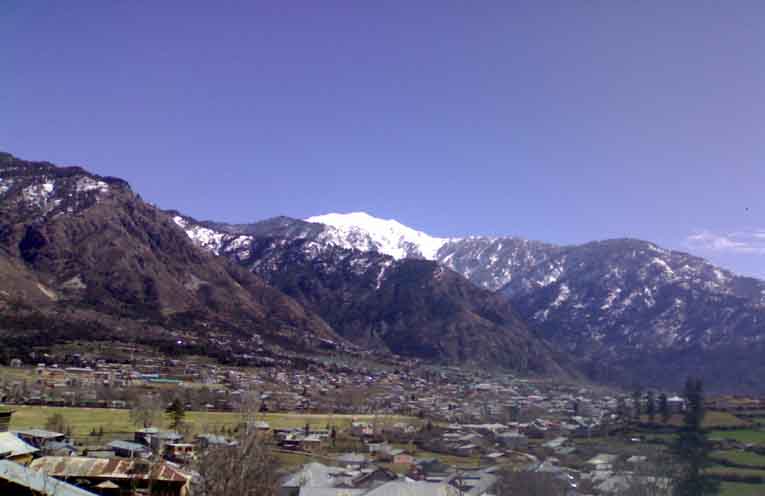 KISHTWAR, Sept 25: Kishtwar police in joint collaboration with Special Investigating Team (SIT) probing August 9 and August 10th violence at Kishtwar and Padder today produced challan in two FIRs registered at Police Station Padder and Police Station Kishtwar before the court of Chief Judicial Magistrate Kishtwar.
The first challan was produce in connection with FIR No: 16 U/S 307/325/147/148/336/109 RPC, 7/25 Arms Act against 10 persons including four members of Village Defense Committee (2 VDC members and 2 VDC SPO's). As per the details available with Early Times, Police produced Challan against Pritam Lal (VDC member) son of Radha Krishan resident of Tata Pani, Joginder Singh (VDC member) son of Junga Ram, Girdari Lal (VDC SPO) son Shahdi Lal, Kalyan Singh (VDC SPO) son of Prahlad Singh, all resident of Atholi presently in police custody.
Six other persons against whom police produced challan and were declared absconding were identified as Narinder Singh son of Partap Singh, Omkar Singh son of Jia Lal, Sudarshan Lal @ Bita son of Des Raj all resident of Tatapani Padder, Jia Lal son of Romal Singh, Ram Kumar son of Shahdi Lal and Dil Mohan Singh son of Prahlad Singh all resident of Atholi Padder. After producing the challan, court set the deadline of 1-10-2013 to all the absconders to surrender before the court. The case FIR No: 16 is registered in connection with an attack on Kijae village allegedly by the VDC members and other miscreants from minority on 10th of August 2013 in retaliation with August 9 violence.
In another case FIR No: 151 U/S 3/25 Arms act, 455/427/315/147/149 RPC registered at police station Kishtwar, police produced challan against 11 persons for looting a gun shop situated inside Shan Complex Kishtwar soon after the violence erupted in Kishtwar town on August 9 last. The police in his challan also claimed recovery of the stolen weapon from the position of the accused. The challan was produce against Amir Ahmed son of Mushtaq Ahmed Baghwan resident of Baghwan Mohallah, Majid Hussain son of Ghulam Hussain resident of Umar Mohallah, Arshad Hussain son of Ghulam Nabi resident of Salamkani, Ghulam Nabi son of Mohammad Ramzan resident of Umar Mohallah, Arif Hussain son of Ghulam Mohammad Baghwan resident of Baghwan Mohallah, Yasir Hussain son of Ghulam Nabi Bakshi resident of Baghwan Mohallah, Babar Hussain son of Abdul Rashid Hafiz resident of Tang Gwari, Firdous Ahmed son of Ghulam Haider resident of Semna colony and Saleem Nabi son of Ghulam
Nabi resident of near Post office Kishtwar. All the eight accused were in police custody and were produced before the court. The court also declared two accused identified as Mehnaz son of Hanief Mochi resident of Umar Mohallah and Jaffar Hussain son of Mohammad Hussain resident of Usmaniya Mohallah Kishtwar as absconders under section 512 Cr.Pc and set a deadline of 1-10-2013 for both the absconder to surrender either before police or before the court. The police informed the court that the investigation in case is still going on and added that the efforts are being made to recover the other stolen weapons.
Meanwhile Kishtwar police today afternoon also detained a youth identified by the police sources as Ajay Kumar son of Sewa Ram resident of Begana Kishtwar and whisked him away to some unidentified location for questioning. Police sources added that the name of Ajay Kumar surfaced during the investigation of murder case of Bashir Ahmed Moochi. If sources are to be believed, Ajay Kumar is the 2nd person arrested or detained in connection with murder of Bashir Ahmed Moochi after Raj Kumar who was arrested by the police last week. In another development, police has declared a BJP leader from Padder identified as Hari Krishan as absconder. The said BJP leader is said to be involved in instigating the crowd at Gulabgard Padder for attacking an ambulance carrying the injured persons. Police is probing his role in murder case of Lassa Khandey who was kidnapped by a mob from local police station and later his dead body was found near Gulabgard helipad next day.
It is pertinent to mention that Kishtwar police and SIT has so far produced 6 challans in connection with August 9 and August 10 violence at Padder and Kishtwar and also arrested over 50 people hailing from both communities for rioting, loot and arson.
Source :- Early Times (Asif Iqbal Naik)