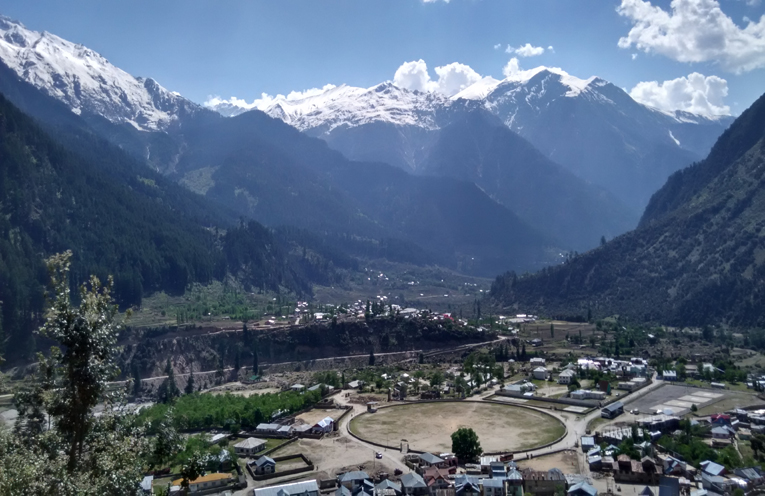 Paddar, the Land of Sapphire, is a Tehsil of Kishtwar district. It was raised to the status of Tehsil in 2005 and on July 6, 2006 it was approved for Atholi Tehsil. It is bounded by Zanskar on the North, Pangi on the East, Bhalessa on the South and Nagseni on the West. The boundary of Paddar lays through Liddrari Nala, the gateway to Paddar, and crosses river Chander Bhaga separating Chhichha from Sazar. Tehsil Atholi is about 1938.5 Mtrs. above sea level. Tun is the remotest village of Paddar in Gandhari Nala which separates Paddar from Himachal Pradesh, whereas Suncham, the highest inhabited village situated at an elevation of 3385 metres from sea level. Suncham links Paddar with Padam in Zanskar after crossing Umasi La or Bardhar Pass at a height of 5340 meters above sea level. Atholi is linked with Kishtwar, by a motorable road. Ishtihari road Paddar will be linked with Pangi of Himachal Pradesh via Sansari which is about two kilometers from village Thumb of Ishtihari Pargana.
Atholi Tehsil consist of 32 revenue villages namely, Sazar, Kidru, Jar, Kadail, Afani, Atholi, Hamori, Ladar, Massu, Mati, Layee, Ligri Pandail, Kundal, Palali, Chashoti, Hangu, Machail, Losaini, Garh, Leondi, Gulabgarh, Kaban, Sohal, Ongai, Tun, Muthal, Chag, Batwas, Ishtihari, Tiyari and Chitto.
Some more Information about Paddar
"Mashore, Padder purana ho gochi zeera ganay jungle lat thay neelam khan ho."
~a Paddry song, translated as: "The famous Paddar Valley is old. Here you find goochi (name of a local vegetable), Cumin, thick forests and Sapphires."
Upon first appearance, Gulabgarh had the appearance of a frontier town, with one main street lined with storefronts and trash blowing around the dirt road. Above the town, the Paddar Valley, whose name is derived from an old crop called Paddaru that has now disappeared from people's diets, continued into the Himalayas. Gulabgarh ("Fort of Gulab") and its neighbor Atholi ("Eight Houses") lie on the confluence of the Botnalla River, the "Buddhist stream" and Changrabagaha River. The Changrabagaha River flows from the Himalayas in Himachal Pradesh and is named after the tributaries Chandra, meaning "moon" and Bagah, loosely translated as "bifurcation." The Botnalla River begins high in the Padder Valley, at the base of the Himalayan Range. Their location at this confluence in the lower reaches of the valley make these two towns of 2,000 Muslims, Buddhists, and Hindus (Kashmiri, Urdu, Ladakhi, and Paddri, a local Dogri-Jammu regional-dialect are all heard in this valley) important for education, health services, provisions, jobs, transportation, electricity, fair weather, and absorbing people emigrating from the higher elevation villages. Above Gulabgarh, neither road nor power lines nor hospitals exist, the quality of schools is lower, and the winters become progressively more harsh up valley.(government has taken some steps, to provide road facility and power supply to far flung areas of Paddar Tehsil). The 22,000 local Paddry people, who are relatively united by the valley boundaries, therefore rely on Gulabgarh and Atholi as a hub, despite being self-sufficient in many ways.
Self-sufficiency is a large part of living in the Paddry Valley villages, however, with most families farming and making their own homes, clothes, woven grass beds, and more, creating a rich agricultural and artisan culture. In Paddar, 75 to 85% of peoples are farmers. In the lower elevations of the valley around Gulabgarh (below 8,000 feet), crops include corn (maize: for flour, roti, and on the cob), wheat, rice, potato, pulses, peas, walnuts, apples, grapes, plums, peaches, sunflowers (for oil), cabbage, chillies, tomatoes, cauliflowers, carrot, radish, pumpkins, garlic, and eggplant. These crops are often planted together in small terrace patches (e.g. corn inter-planted with pumpkins below and beanstalk vines growing up the corn plants). In upper elevations, other crops are grown (e.g. barley and rapeseed-mustard oil) and certain crops that grow in Gulabgarh do not grow high upstream (e.g. corn and many fruit trees), providing opportunities for trade. Within this agricultural system, chickens are unusually absent in the Hindu parts of the valley, curiously because the local gods did not want chickens in the valley. Many families in Gulabgarh have kitchen gardens or a few fruit trees. n early August, many villagers were beginning to harvest wheat, cutting it by hand, threshing it on a rooftop stone, removing the chaff with the wind, and drying it in the sun for two days. Wooden water mills with granite plates, located throughout the valley in wheat-growing areas, then make flour (locals don't like the taste of electric mill flour). Traditionally, after grinding their wheat, a family will give some of the flour to the mill owner as payment. But in Gulabgarh, farming and self-sufficiency are diminishing in importance. Winter life between November and March is simple but not easy for their family, with everyone living in their one traditional room, along with the animals, a small oak fire in the center. The oak Quercus incarna, known locally as Hiru, is cut from the surrounding hillsides, along with pine and other fuel wood. Kids play or study. Females cook food or make crafts for sale or clothes. Males spin wool. Some also play Seep or Rang with cards or enjoy a game of chess. When the sun warms the air, his family ventures outdoors to bask. Sometimes the snow reached his knees and sometimes the road to Gulabgarh is closed to avalanches.
The Paddar Valley is also known as the Machail Valley to some, named after the first settler called Mahu but also the name of one of the largest upstream villages. Remains of ancient springs with stone carvings and trailside carvings are also clues to past settlements. Villagers say these spring carvings come from the Pandavas, during times of the Vedas and epics. The wear on the durable rock testifies to old age, though how old? In mountain areas of the nearby Indus River Valley, ancient cave settlements are thousands of years old. As caves in the Paddar Valley have likely not been surveyed and prehistoric homes were likely built with wood and earth, concrete evidence is not likely in the near future. What can be speculated, given the movement of people, is that these remote valleys were explored, perhaps sparsely settled during ancient times, as the glaciers of the Himalayas retreated following the ice age. Most villagers do not remember where their ancestors came from; at some point the stories have been lost.
Dress, Diet and Transportation of Paddri Peoples:
In some villages of Paddar we find people wearing woolen shirts, woolen trousers and a cap covering the head and the ears locally called "Kantop". They wear grass shoes of a particular type which is bound on heels and has a pointed nose locally named as "Pulhor". In winter it is stuffed with rags of woolen clothes which keep the wearer warm and fit for travel over snow clad roads and foot paths. Ladies put on a "Choga" with a griddle of woolen cloth. Modern fashion has also crept in the society.
The Paddar Valley has rudimentary transportation, with no road system past Gulabgarh. The Tehsil Dar stated that a road to Machail, halfway up the valley is a primary goal of the government, which he believes will improve health care and trade. Villagers are also typically optimistic about the road construction, citing greater opportunities and mobility, with access to machinery and trade as top issues. Today, transportation is limited to horses, donkeys, mules, and human labor. Constructing a road through the narrow and steep Paddar Valley, however, would create many environmental problems, including access to cut trees and poach wildlife as well as erosion and landslides. In terms of mobility, people are interested in visiting far flung places such as Delhi, either for work or as tourists. Most are too poor to afford such travel so are mobility-limited to the Jammu, Kashmir, and Zanskar area. At the most, some people have traveled to big cities such as Srinagar and Jammu. The road to Himachal Pradesh, which continues up the Changrabagaha River is in disrepair, making transportation in that direction mostly prohibitive. Others have traveled across the Omasi-la pass into Zanskar, once a major trading route but now mostly limited to unemployed youth seeking jobs in Zanskar or marriages between valleys.
But new generation of this beautiful valley is much more intelligent. Most students are graduates, doing Post Graduations, Doctors, Engineers, and Lawyers. They are doing well in almost every field of Education as well as co-curricular activities.
Paddri people are very good singers, There are some famous singer in Paddar Tehsils.