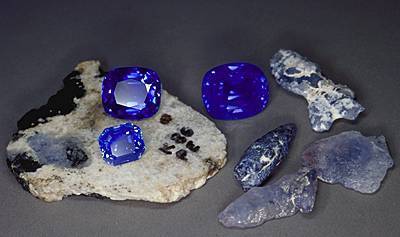 There is a chance discovery of Sapphire (नीलम)

"pride of J&K"

mines in Padder pargana in 1881 A.D., during the Dogra rule of Maharaja Ranbir Singh. The mines are located at a height of about 4,267 meters or 14,000 feet above sea level on mountain top above mountain top above Sunchan village some 40 kilometers from Atholi. In 188
1 A.D., there was hardly any habitation in the village. Sunchan is 3385 meters or 1,100 feet above sea level. Maharaja appointed an officer to look after the affairs of these mines. Necessary measures were taken to protect the mines. A department of mining was established in 1909 A.D. which was later on named as J&K Minerals Ltd. The extraction work has been stopped for the last two decades.
The decision about scientific extraction of the world-wide famous sapphire was taken in the year 2007 and at that time the Government had ordered for sending teams of experts to Padder for deciding modalities for preparation of integrated mining plan followed by floating of global tenders. 
Subsequently, the global tenders were floated for inviting expression of interest (EOI) for scientific extraction of sapphire from Padder mines. Around seven companies participated in the EOI and three of them were shortlisted by a committee constituted for the purpose. T
he Government has continued manual extraction of the Sapphire from Padder mines and during the year 2008, around three to four kilograms of rough Sapphire was extracted thereby raising the total quantity of sapphire with the Department to around 14 kilograms. 
After a long gap of 20 years when the sapphire extracted from Padder mines in Kishtwar was put up for auction in the state and for the first time in the winter capital, some prickly issues which the government has always preferred to avoid too cropped up. Though this time the auction of 34 lots of rough sapphire corundum with varied weights fetched a handsome amount of Rs 1.31 Cr, a far greater amount earned in the last auction held in Srinagar in 1988, yet the connoisseurs of this precious stone were not very appreciative of the quality of 40 lots on sale. This was in spite of the fact that Padder sapphire is perceived to be the best in the entire world for its unmatched qualities of durability, variety and beauty.