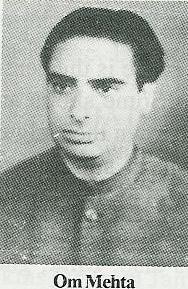 Om Mehta
Om Mehta was born on February 20, 1927 in Kishtwar Town. He completed his education at Prince of Wales College in Jammu. In 1947 he joined the National Conference. He was also the chairman of the Chamber of Commerce Co-operative Society Kishtwar and established a building for it, which is situated near Tehsildar's office.
He was elected as legislative member of council in 1957 as well as in 1959. He was the first member to bring upon situations held in Kishtwar in the council, which resulted in many job opportunities for the people of Kishtwar. In 1962, he became the Director General of J&K Corporative Bank. He was also the working committee member of Bharat Sewak Sangh, Panchayti Raj Committee, Red Industries Board and Constitute Club New Delhi.
In 1964, he joined Indian national congress and in the same year, he became the Member of Parliament. In parliament he was the member of public accounts committee from 1966 to 1968. In 1970, he was given the ministerial rank in the union and in 1971 he became minister of aviation and transport where as in 1973 Department of Development was added to his ministry. During his ministerial tenure, he was given the opportunity to become India's most honored minister. He served home minister from 1974 to 1977.
Om Mehta traveled many countries and proved to be an intelligent ambassador of the country. He agreed to become an advisory chairperson of Indian Institute of Public Administration in municipal administration training and research center.
His contribution for the development of District Doda is fabulous. Dul hasti hydroelectric power, Batote Kishtwar national highway, Kishtwar Manali boarder road, Kishtwar water supply, and Bhadarwah Chamba road are few examples of his many developmental works that were not possible without him being in the assembly. Om Mehta is one among the very few personalities of Kishtwar who served their entire life in serving and revolutionizing Kishtwar that can never be forgotten by Kishtwari people.
His work in the congress has always been outstanding. Mrs. Indira Gandhi was so impressed by his work and smartness that she used to sign his suggested governmental projects without any hesitation. He was then prime minister's most trust worthy worker. Because he had such a great techniques to accomplish a lot in such a short span of time, he was given the task to solve the most difficult problems in India. With the result of increasing workload Om ji's health starting deteriorating and passed away on February 12, 1995.
Source:-Kishtwar.com
Krishna Mehta
Krishna Mehta (First Lady MP from J&K)
Born on June 4, 1913 in Mehta family of Kishtwar in Jammu and Kashmir, Krishana was married to Duni Chand Gupta of the same locality who later on became Wazir-e-Wazarat ( Deputy Commissioner) of Muzaffarabad, which now is in PoK. However, destiny had other plans. When India got freedom, Duni Chand was killed in violence thereby making Krishna as an unfortunate widow taking refuge in the refugee camps along with her children. But instead of losing in self pity the great lady took up the task of rehabilitation of other women and children suffering in the camps.
It was in Kurukheshtra that Krishna Mehta came in contact with Pandit Jawahar Lal Nehru, then Prime Minister of India. Realizing Krishna's tremendous will power and her commitment towards human cause, Nehru invited her to Delhi and made her as his sister. This was an important event that led Krishna on to greater purpose of life. With PM's support, Krishna Mehta established Gandhi Sewa Sadan and Khadi Gram Udyog Sangh dedicated to the economic development of women particularly in Jammu and Kashmir. Today, Gandhi Sewa Sadan has over sixty branches across the State and a couple of them are in the Union capital.
Krishna was not just a social worker; she was worker with vision and commitment. She had a personal experience of suffering out of which was born the zeal to work hard for the alleviation of poverty. It was in fact her need to do something positive to help those who needed help.
Realizing that the process of social work demanded coordinated action of several fields, Krishna Mehta joined active politics and was made Rajya Sabha member from the State. This way she achieved distinction to become the first woman MP from Jammu and Kashmir. This cold have been a life time achievement for any body else, but for Krishna Mehta it was only a means towards a more practical end- the development of her native place. Krishna Mehta, thus was instrumental in bringing Indira Gandhi then PM to Kishtwar thereby acquainting her with the problems of Kishtwar.
Krishna Mehta had an innate urge for spiritual life. In 1972, she met Baba Magan a Gujrati Saint of great reverence and made him her Guru (spiritual mentor) and remained in his Ashram for ten years living a perfect life of renunciation. Krishna Mehta traveled intensively both in and outside the country. She wrote many articles especially on Pandit Nehru. She also wrote a book on the crisis in Kashmir.
Krishna Mehta lived a useful, inspiring and satisfied life. She passed away on October 20, 1993 at the age of 80. As she wished, her ashes were immersed in Chanderbhaga (Chinab) near Kishtwar town in whose heart beats life and works of Krishna Mehta quietly but surely live on.
Source:-Kishtwar Timez
Bashir Ahmad Kichloo
HajiBashir Ahmad Kichloo was bron on April 13,1937 he was the only son among the five childern of Haji Ghulam Mohammed Kichloo,a general merchat and prominent social figure of Kishtwar weiding a considerable infulence among the people.After his Matriculation,he could not hold his family business and joined Forest department as a forester in 1954.He joined Plebisicite Front in 1958 after quitting government job He remained unquestioned leader of Plebiscite Front of his zone till its conversion into National Conference in 1975.He was jailed several times and spent more than six years in jail. In 1975 he became District President of National Conference.He Contested assembly election from Kishtwar in 1977 and joined Council of Ministers as Depty Minister,He Relinquised the ministry after death of Sheikh Abdullah in sep.1982 and was nominated as senior Vice President of National Conference.He was defeatef in 1983 AssemblyElection byShri Ghulam Hussain ArmanOf Congress Party but againg won in 1987.He joined Farooq Abdullah's government as a Cabinet Minister till 1990 In his capacity as a Chairman Auqaf Islamia Kishtwar and Presedent Anjuman Kishtwar,He Made significent contribution in the form of construction of grand complexes and upgradion of old Islamia Faradia High School to Islamia Faridia Educational and Research Institute with 10+2 school for boys and girls and poteltail for starting a College of Education.He was reported crying like a chiild while witnessing the fire incident of Jamia Masjid Kishtwar.Without Caring for his deteriorating health he did not only get the new plan for construction of three storeyed mosque finished but also started construction on war footing.it was his cherished desire to see the new mosque before his death but time and tide wait for none.
Src:Kishtwar.com
Thakur Jughal Bhandari
Thakur Jughal Bhandari s/o Late Sh. Anant Ram Bhandari of Bhandari Mohalla Kishtwar.In year 1983 he joined Congress. His Academic Qualification, Social background, Political Background etc are given below:
Thakur Jughal Bhandari
ACADEMIC QUALIFICATION:
H.S.S. J&K BOSE
Abid Mahir Aligarh Muslim University
Rashtriya Basha from Rashtriya Prachar Samiti Varda
POLITICAL BACKGROUND:
Joined Congress Party in the year 1983
Distt. President DYCCI Doda from 1992 to 1995
Gen. Sec. DYCCI Doda from 1995 to 2001
Working  President DCCI Doda from Oct. 2001
Executive Member J&K PCCI from 2002
State Secretary PCCI J&K till date.
SOCIAL SERVICE AND OTHER BACKGROUND:
Human Rights Affiliation under Eminent Journalist & writer Sh. Bal Raj Puri
Executive member Akhil Bharti Rachnatmak Samaj headed by Social Activity, i.e Sushri Nirmala Desh Pande (Didi)
Associated Member of Doda Distt. yateem Foundation Trust J&K (Srinagar)
Chairman Distt. Adarsh Charitable Trust ( Nar Sewa Narayan Sewa) Kishtwar.
RELIGIOUS & EDUCATION ORGANIZATION:
Vice Chairman Shri Sarthal Devi Ji Trust from 2001-2003
Executive member Sanatam Dharam Sabha J&K
Chief Organizer Kishtwar Welfare Front
Executive Member Rajput Sabha Kishtwar
Secretary Adarsh Dramatic Club (Social & Cultural Activties Kishtwar)
President New Era Public High School Management Kishtwar
Vice President Adarsh Bal Niketan Higher Secondary School Kishtwar
Sajjad Ahmed Kichloo
Sajjad Ahmed Kichloo
He is the honourable MLA of our Kishtwar Constituency..
Mr. Sajjad Ahmed Kichloo MLA, was born on 20th of June, 1964 in Kishtwar. Mr Sajjad Ahmed Kichloo, the third son of Late B.A. Kichloo having political bent of mind was declared as the political successor to his deceased father. He started his political career in 1996 and was elected as Tehsil President Youth NC. Later he was elected as District President Youth NC in 1998 and continues this status till date. After the death of his father, he was given mandate by NC party for contesting the Assembly Election from 51 Assembly Segment Kishwar in 2002, which he won by 16725 votes defeating his rival INC candidate Mr. Ghulam Haider Sheikh by a margin of 1663 votes .He also won 2008 Assembly elections from Kishtwar defeating his opposition BJP candidate Mr. Sunil Sharma. The behavior and way of working of Mr. Sajjad exactly resembles his late father and political patron.
Ghulam Mohammad Sarrori
Gh. Mohammad Sarrori
G.M Saroori started his career as a businessman along with his father Lt Saidullah saroori who was a noted social worker and generous person. He was a staunch poetical worker n having good influence in, sarthal , saroor, etc areas of Kishtwar. His eldest son G.M Saroori took keen interest in father's affairs. He has same generous approach and instinct for social work. He also remained contractor for a long time. Seeing suffering of own people, he associated with MS Nirmala Deshpande-a noted Gandhian and social worker. He is secular by blood. He got Gandhian gold medal for social work. He was instrumental in helping Government bring to book the culprits behind stealing of idol in Sarthal temple which averted communal tension. In 2002 he defeated NC candidate by 18000 votes the .highest margin in state. He became very popular and was appointed as chairman SAB with MOS status. His Performance in implementing social welfare schemes was appreciated by Smt Sonia Gandhi and Jenab G.N Azad and subsequently inducted as MOS education, tourism, forest, social welfare. Again in 2008 elections against all odds due to hi performance and clean image .morality defeated his rivals with more than 11000 votes. He was inducted as cabinet minister for R & B. Due to some reason he lost his ministry and now he's MLA of Inderwal constituency.
Some other Political personalities of Kishtwar are Sh. Brij Mohan Sharma (Ex- MLC), Gh. Hassan Arman, Nizam-Ud-Din, Gh. Rasool Kripak, Mir Badshah, Ghulam Mustafa, Mr. Sunil Sharma leader Bhartiya Janta Party, Late .Sh Jagat Ram Aryan, Mr. Anil Parihar leader Panthers Party, Jenab Asgar Pir (MLC)  People's Democratic Party etc.
| MLA | YEAR | Constituency | PARTY |
| --- | --- | --- | --- |
| Gh Rasool Kripak | 1951 | Kishtwar | |
| Mir Badshah | 1957 | Kishtwar | NC |
| Ghulam Mustafa | 1967 | Kishtwar | INC |
| Ab. Gani Goni | 1967 | Inderwal | INC |
| Nizam Ud Din | 1972 | Kishtwar | INC |
| Abdul Gani Goni | 1972 | Inderwal | INC |
| Bashir Ahmed Kichloo | 1977 | Kishtwar | NC |
| Gh. Mohd. Sheikh | 1977 | Inderwal | NC |
| Gh. Hassan Arman | 1983 | Kishtwar | INC |
| Gh. Mohd. Sheikh | 1983 | Inderwal | NC |
| Bashir Ahmed Kichloo | 1987 | Kishtwar | NC |
| Mohd. Sharif Niaz | 1987 | Inderwal | INC |
| Bashir Ahmed Kichloo | 1996 | Kishtwar | NC |
| Jalal-Ud-Din Qazi | 1996 | Inderwal | NC |
| Sajjad Hussain Kichloo | 2002 | Kishtwar | NC |
| Gulam Mohd. Sarrori | 2002 | Inderwal | INC |
| Sajjad Hussain Kichloo | 2008 | Kishtwar | NC |
| Gulam Mohd. Sarrori | 2008 | Inderwal | INC |
| Sunil Kumar Sharma | 2014 | Kishtwar | BJP |
| Gulam Mohd. Sarrori | 2008 | Inderwal | INC |