NAGSEN can well be called the first prose writer in Kishtwari.
Krishan Lal Krishan, Suresh Ji Bawra, Badri Nath Palmari, Kashmiri Lal Roop, Chander Mohan Gupta 'Chander Kishtwari', Sant Ram Sanatan, Mohan Lal Parihar 'Garib', Sohan Lal Ganjoo, Janbaz Kishtwari, Ulfat Kishtwari, Lassa Jaoo Rana, Qadir Birwari, Manmohan Gupta 'Qaiser', Khushi Ram Sen 'Aavesh', Rowail Singh Rana, Swami Raj Mastana, Jagdish Raj Sharma 'Dilgeer', Ushaq Kishtwari , Lekh Raj Parihar 'Nirala', Bhabi Chand Shan, Sh. Ram Sewak Sharma, Master Tara Chand, Hans Raj Wazir, Bansi Lal Aryan, Madan Lal Bhandari, Om Ji Goswami, Kewel Krishan Sharma, Ashok Bhandari, Subash Sharma, Shub Dev Sharma and Amin Doolwal are some famous Kishtwari poets who have composed verses in Kishtwari, Hindi and Kashmiri.
Shri Mohan Lal Parihar 'Garib'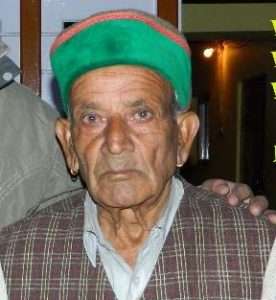 Mohan Lal Parihar was born in village Matta of Kishtwar.
Mohan Lal ji Garib is a famous and renowned poet of Kishtwar. He also wrote Bhajans of Maa Ashtdash Bhuja Mata Sarthal.
Awards and Achievements
1. Receive Momento from Anjuman Taraqqi Adab Kishtwar in 1998 for better performance to uplift the Kishtwari literature
2. Certification of Honour from A B N High School Kishtwar
3. Certification of Honour from 'Kishtwari Sahitya Kala Academy'.
4. Certification received by G.M. Sarrori on the eve of Golden Jubliee Awards in 2008
Shri Bhabi Chand Shan
Bhabi Chand Shan was born on 19-05-1954 in village Shanpura Chingam of district Kishtwar. He is a man with great poetic interest, had written many poems, geets and bhajans not only in Urdu language but also in Kishtwari and Kashmiri language. Poems, bhajans written are mostly motivational and show great fragrance of Hindu religion.
He has continuously participated in Janam Ashtami program as VASUDEV in 2009, 2010, 2011.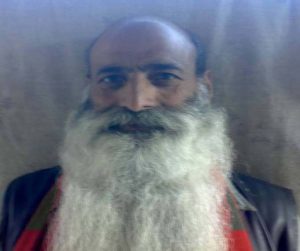 His Philosophy of life is :
"यह जीवन मिटटी का कच्चा घड़ा है, न कर मान गुम्मान ,
यदि इस को भाटी मे पक्का भी करेगा, फिर भी है दो दिन का मेहमान"
Bhajan of Maa Sarthal by Bhabhi Chand Shan
Lal chola lage Mata sher sawar, Sarthal mata thuy namaskar,
Raja yuvon khornain mata darbar, aamiran gareeban they divan taar,
Sarthal gamas manz thu mata darbar,Sarthal mata thuy namaskar
Kishtwadas mata pehreydar, bhagtav sajovmut thu mata darbar,
kandney charnan tal mandar namashkar, Sarthal mata thuy namaskar
Chandi mata machel nam thu paddar, Bhaderwah chanoot hathan naren yatr,
Paddar they nilam Kishtwar Kung taar, Sarthal mata thuy namaskar
Chandi mata prakat they mindal pahar, Vashno mata darshan thu katra pahar ,
Pashu hatya pap thu sarey karu vichar, Sarthal mata thuy namaskar
Wathul pahad brahmanand sheen thus ambar, Dacchan theiy Trisandya doodh chiy dhar,
Sher thu Brahama pahad Dil thu Kishtwar, Sarthal mata thuy namaskar
Basdev babas thuy namaskar, dhayanu bhagatas mata chey dechet taar,
Bhabi chand thuy chadan gaam tay shar, Sarthal mata thuy namaskar.
Late Shri Khushi Ram Sen 'Aavesh'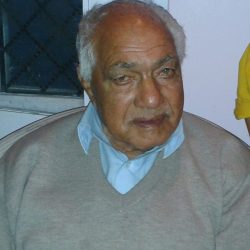 Khushi Ram Sen 'Aavesh' was born on 4 Sep 1927 in village Zellna of Kishtwar. After doing Matriculation from High School Kishtwar, he completed his 10+2 from SP College Srinagar. Later, he joined education department as Teacher. After that he did Bachelors and Post Graduation from Amar Singh college. He was Post Graduate in two subjects i.e. in Hindi and History at that time. He was the ex-president of Sanatan Dharam Sabha Kishtwar. He is famous for poetry and story writings in Hindi and Urdu.
He was the active member of Bazam-e-Adab Kishtwar. He has retired from service.
Lekh Raj Parihar "Nirala"
Lekh Raj Parihar "Niralla", son of Late Thakur Sahib Ram Parihar, basically from village Sonabhati of Palmar, presently residing at Matta Kishtwar . He is well known composer, writer, poet from Kishtwar, he has written so many poems in English, urdu and kishtwari.
He is also district President of Bharat Swabhiman (trust) unit Kishtwar. He worked as Rural Director Dramatic Clubs for general awakening of the people living in rural area. He also served as Secretary "Kishtwari Sahitya Sangam" for about four years. Presently, he is vice president of Kishtwari Sahitya Kala Sangam Kishtwar and also vice president of Anjumen Tariqi–e-Adab Kishtwar.
He is a social activist. He received his poetic inspiration from his mother. He is active participant of Mushairas conducted by cultural academy at district and state level and he also takes part in radio program and literary pursuits. He has written two book's entitled "Nirala's Poem" in English and "Paribaag Geet Mala" in kishtwari.
Jagdish Raj Sharma "Dilgeer"

He is from Matta Kishtwar, after passing his matric from HSS Boys kishtwar he started working in a private firm as a daily wager. He is a famous personalty of kishtwar, he usually writes poems in kishtwari and urdu. He wrote his first poem in 1959 while working in a "Working Plan(Forest Department)" after that he joined "Ghulam Din Ganga Ram" firm.
His favorite poem in Kishtwari is "Kishtwarich Zanan".
His first poem was "Working Plan"
"Raatas Na Nindar Dosas Na Chain, Naukri gasay Karin Working Plane
Rooz khushun boan paitha paith topaas, Kwal ith deyun hisab Ranger saabas
Aay na Oos gasun bachain, Naukri gasay karain working plane"
After joining "Ghulam Din Ganga Ram" Firm he wrote his Second Poem
" Bob bay Manager Jammu thay magaan, Meyana Pagwana Sheen thu Lagaan,
Muniem tay Munshi thay Darbdar, Na thu godaam bay na thu Zar,
Dos Dos thay tem mas mas chatan, Meyana Pagwana Sheen thu Lagaan."
"Kishtwarich Zannan"
Igri vouth thum godunkuk kaar, aanun panye tey te zolun naar,
Dvanis chowk dith Dal thes Khvalaan, tatay tain them gasan toph fir balaan,
Path thum pana manje chandnun kaar, Pinmay chode tay zolun thum naar,
Zab tov paan avyne karay kya Dhaar.
Pata phokh deth deth ulan them sheer, jaban thas meynga ma gasniym neer,
Zane thays aasan dosay bemar, Zab tov paan avyne karay kya Dhaar.
Khabar koud gyaie Koudi bokut thum revan, yava paith votus sata thum divan,
Nata peyam is tay khusmut bukhar, Zab tov paan avyne karay kya Dhaar.
Yetey aos unyie khabar koud drav, Rataim zara buktis bo chava Gaav,
Khabar Dos ma peyam aamut Dopaar, Zab tov paan avyne karay kya Dhaar.
Prodnav zara kya ivan thav Ool, Vajney Daa(10) pana gasun thav school,
Yev Shonda chol bas manje thav tayyar, Zab tov paan avyne karay kya Dhaar.
Aza pamma Krande thum karun Gvanas, tod ith pana khyem manje panas,
Pata them bay pana variya kaar, Zab tov paan avyne karay kya Dhaar.
Kya kar pan unyi yem tham bhakhat, Kasas gasun aosum toph them sakhat,
Konay thum peyan ye davag sun naar, Zab tov paan avyne karay kya Dhaar.
Zabum aaz gasa zara malnay kin, Gvarakh imn karay gasnium riyn,
Nata chalnium yevki tein Shaar, Zab tov paan avyne karay kya Dhaar.
Pathoore them chandnaye vozi maa Choor (4), Boktiyo tulukh kyans variya shor,
Sazlis ucha vangal thum tayyar, Zab tov paan avyne karay kya Dhaar.
Nalkas ma peyam fiermut Paany, Kratie assunm parun thak gasem tet tain,
Goda aana paany lagay sarsi naar, Zab tov paan avyne karay kya Dhaar.
Kaizay theumkhavaln kidi kidi taith, Gosian unya shung rev bisanas paith,
Kichya theyos karmic bo tey zerbar, Zab tov paan avyne karay kya Dhaar.
Meyankin suna bo tey unyiy Loth gudi, Igri them pana bey nayi Khudi,
Raich them ivan boktisiyn Zanamvaar, Zab tov paan avyne karay kya Dhaar.
"Dilgeer" bas kar Nindar they Ivan, Sokh tey Dokh thuye sarniye pevan,
Tutay thuk sarnuniye Khidmat Guzar, Zab tov paan avyne karay kya Dhaar.
Manisha Manu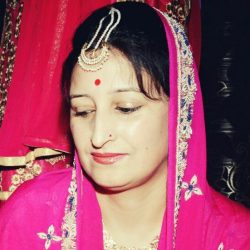 Manisha Sharma ( Manu) D/O Sh. Ram Sewak Sharma of Bera Bhata Kishtwar. Manisha did her schooling from BVM High School Kishtwar. Manisha is very talented, we can say " girl with magical words". Manisha, is also a renowned poet of Kishtwar district , she had written many poems in various magazines like Trikuta Lalkar, Sarvhit Sandesh, Bal Ravi Samarika etc. and also in News Papers like (Dainik Jagran, Punjab Kesari). Some of her poems are Bundain, Nanhi Beti, Main Zindgi, Kaisa Ye Maan Hai, Agar Hoti Manzil Asan, Rakht Ranjit Dhara etc. She is a professional writer, she has written many articles on different Social issues. Manisha has written a book namely "Kishtwar Ki Lok Kathayain".