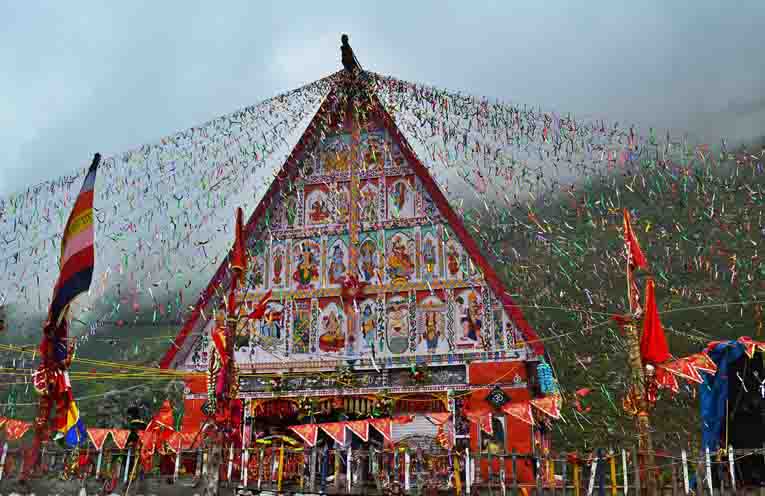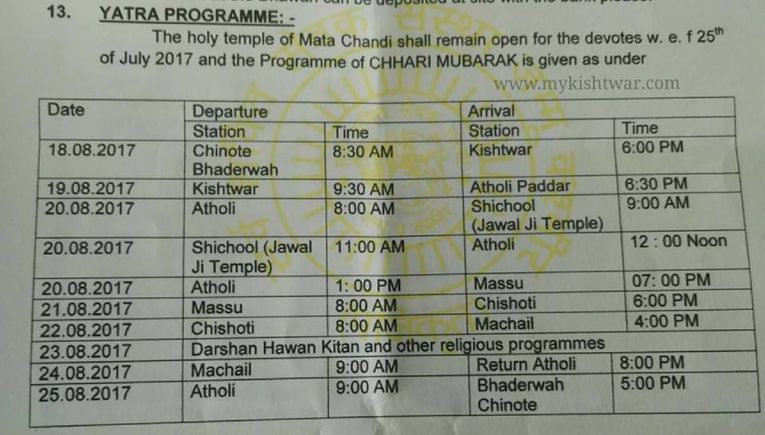 Details of Langar Parties for Machail Yatra 2017 in District Kishtwar
| | | | |
| --- | --- | --- | --- |
| S. No | Name of Langar Party | Location | Duration  (August Month) |
| 1 | Shiv Mandir Committee | Drabshalla | 17th & 18th |
| 2 | Darshan Kumar Gupta & Party | Kandni | 18th to 25th |
| 3 | Dogra Sewa Samiti | Shalimar Kishtwar | 16th to 21st |
| 4 | Shiv Shakti Sanstha | Govt HSS Kishtwar | 18th to 19th |
| 5 | Maha Chandi Langer Sewa Dal | Kuleed Chowk | 16th to 19th |
| 6 | Satish Kumar & Party | Wasser Chowk | 23rd to 25th |
| 7 | Raju Gupta & Party | Zellna | 14th to 25th |
| 8 | Ujjwal Gupta & Party | Kwar Nagseni | 17th to 19th |
| 9 | AAP Shakti Sewa Committee | Galhar Nagseni | 11th to 25th |
| 10 | Ravinder Gupta & Party | Karthai Paddar | 7th  to 20th |
| 11 | Sanjay Gupta & Party | Atholi Paddar | 15th to 20th |
| 12 | Sudesh Goswami & Party | Shetla Mata Mandir Gulabgarh | 25th to 31st |
| 13 | Babu Ram & Sham Lal | Yatri Bhawan Gulabgarh | 6th  to 25th |
| 14 | Anil Kumar Kalsotra | Garh Nallah | 17th to 25th |
| 15 | Anil Kumar Gupta | Massu | 9th to 24th |
| 16 | Happy Jamwal & Party | Sogi | 1st to 25th |
| 17 | Suresh Kumar & Party | Kundhail | 25th to 31st |
| 18 | Rajinder Kumar Faria | Chishoti | 1st to 25th |
| 19 | Karam Veer Singh | Chioshoti Kali Mata Mandir | 10th to 24th |
| 20 | Bhushan Gupta | Hamori | 9th to 24th |
| 21 | Lucky & Rajesh Gupta | Paar Darshan Machail | 1st to 24th |
| 22 | Jyoti Verma & Party | Near Shiv Mandir Machail | 18th to 24th |
| 23 | Ashok Kumar Pradhan | Machail | 1st to 25th |
| 24 | Mahesh Mahajan | Machail | 20th to 24th |
| 25 | Surinder Mohan Ved | Machail near Police Post | 25th July to 10th Aug |
| 26 | Rajinder Arora & Party | Machail near Police Post | 11th to 31st |
| 27 | Dewika Sewa Dal | Machail | 12th to 25th |
| 28 | Jai Durga ETT College Nagbani | Machail near Police Post | 12th to 24th |
During Yatra few things every yatries should take into consideration. (Read Below)
Do's

for the Yatries



Do carry sufficient woolen clothing as the temperature may sometimes abruptly fall.
Do carry an umbrella, wind cheater, raincoat, and waterproof shoes as the weather in the Yatra area is unpredictable.
Do keep your clothes and eatables in a suitable water-proof bag to avoid your belongings getting wet.
Do travel in a group, with porters / horses / ponies carrying your luggage.
Do ensure that all those comprising the group remain in your sight, lest you are separated from your group.
Do seek an immediate assistance of the Police in case any member of your group is missing.
Do help your fellow Yatris traveling with you and perform Yatra with a pious mind.
Free food facility is available in the entire Yatra area at the Langars.
Earth, water, air, fire and sky are integral parts of Lord Shiva. Therefore respect the environment and do nothing whatsoever to pollute the Yatra area.
Do strictly follow the instructions issued by the Sarv Shakti Sewak Sanstha, from time to time.
Do carry your identity card/driving license  with you.
For Ladies: Saree is not a suitable dress for the Yatra. Salwar Kameez, pant-shirt or a track suit will be better.
 Don'ts for the Yatris
Don't stop at places which are marked by warning notices. Walk only on the tracks.
Don't walk barefoot or be without woolen clothing at any time as the temperature in the Yatra area remains low and changes abruptly.
Don't use slippers because there are steep rises and falls on the route to the Holy Cave. Only wear trekking shoes with laces.
Don't attempt any short cuts on the route as doing so is dangerous.
Don't commence journey on an empty stomach. If you do so, you may attract a serious medical problem.
Don't do anything during the entire Yatra which could cause pollution or disturb the environment of the area.
Do not bring with you any polythene material as its use is banned in J&K and is punishable  under law.

Don't carry expensive or heavy jewelry during the yatra.

Don't overload yourself with extra stuff on steep roads.

Don't ever try alcohol during the yatra. It is strictly prohibited there.

Heavy jewellery should be avoided during journey.
Don't try to wash hands/ clothes/ bath in the rivers on the way.
Don't attempt any short cuts on the route as doing so would be dangerous
Follow us on Facebook : Machail Yatra – a journey of Faith
Follow us on Instagram : Machail Yatra – journey of Faith
Follow us on Youtube : mykishtwar.com