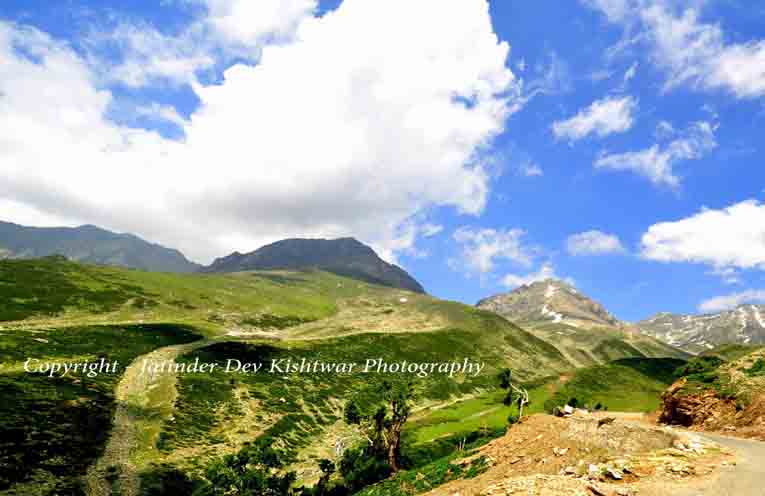 Kishtwar – The land of Sapphire & Saffron !
Thanks to my friend Pradeep Parihar and  team of mykishtwar.com / Kishtwar Ek Jannat to bring this beautiful place on the Tourism Map of Jammu – Kashmir, We are working our ways to make Kishtwar to rise up on the potential levels for tourism independently and does not have to be under the Shadow of Kashmir. Being a part of Dogra kingdom certain customs and words of Dogri have also been incorporated in the native language.
Kishtwar is connected three sides by Roadways and on one side you can trek your way to the beautiful Zanskar Valley.

1.) Jammu – Kishtwar Road via Doda
2.) Anantnag – Kishtwar Road via Sinthan
3.) Killar ( HP ) – Kishtwar Road via Tyari

A project for Marwah – Kishtwar Road Connection is on, but will take few years for its completion !
The Chenab River flows through the district and is joined by tributries such as Marvisudar ruver of Mawah, Fambar Nallah, Chingam Nallah which meet at the confuence near Bhandarkoot.
We had just completed Warwan Valley, reached Daksum around 12:15 hrs , had lunch at the JKTDC and left for Kishtwar around 13:15 hrs – in 32 kms We reached the beautiful Sinthan Top in 45 mins,the road uptil Sinthan Top is beautiful black top thanks to the PDP Government in this case, just as you cross the Sinthan Top the other side is equally beautiful landscapes just the roads are not as good this time its BJP , but doesnt mater landscapes does all the magic !

This was many years in the making, We reached Chowgan & met our dear friend Pradeep who took us around Kishtwar market, Chowgan & then to our beautiful hotel – Blue Sapphire awesomic location.
The Valley of Kashmir is Muslim dominated but Kishtwar seemed to be Hindu dominated, we had a great time visiting the Valley , it seemed to me Chandigarh kinda enthusiasm but with Mountains 360 degree view too good.
We were invited by Pradeep to his home and we were greeted with the Kashmiri-Kishtwari welcome just love the family too good pure heart lovely people, Mom , Retired Captain Dad, the Kids & Bros wife.
We really enjoyed every moment of this great trip and were happy that we made our way to Kishtwar while something else was on the Cards , God made destiny – Kishtwar !