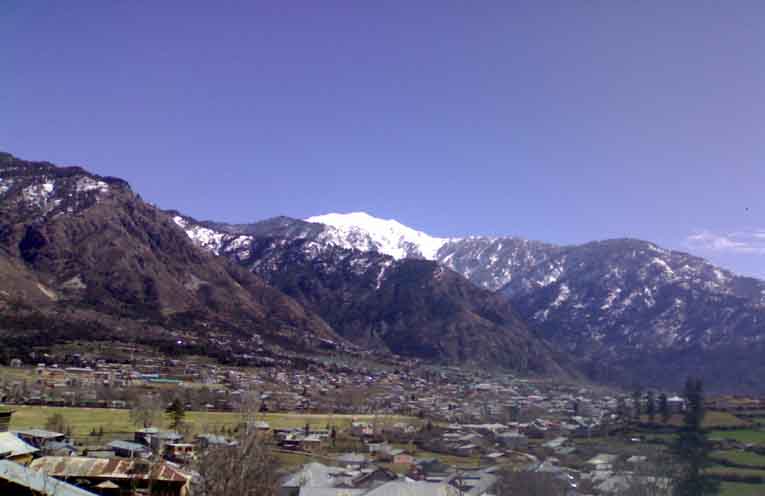 Kishtwar is the land of harmonious Culture and variety of spoken languages and dialects. Socially, Culturally, Linguistically and Ethnically it may not be a homogeneous unit but both educated and uneducated speak the same language.
The area of CHOWGAN (crown of Kishtwar) is near about 520Kanals.

ChanderBhaga (चेनाब) river arise from the opposite side of BaraLacha Pass at a height of 5100mts. above sea level. River Mariev Sudher (मरिएव सुधीर) Marwa river arises from Saga Glacier near BhotKal in Warwan Pargana at a height of 4421mts. above sea level.
ChanderBhaga (चेनाब) is also known as Asikini in Sanskrit.
Both these rivers namely ChanderBhaga and Mariev Sudher meet each other at Bhandarkoot.
Saffron (केसर) is the famous cash crop produced in this area.
Sapphire (नीलम) is the costliest blue stone found in Padder(KISHTWAR).
Quartz are also found in Padder.
Ruby Gems are found in mountanious area of Kishtwar.
It is connected by rest of state through NH1B highway.
Sapphire mines are located at 4267mts. height above sea level.
Kishtwar town is 1634mts. high above the sea level.
The area of land under Forest in Kishtwar district is approx. 124.23sq.miles.
District Institute of Education (D.I.E.T) opened on 1st Jan 1979 at Kishtwar.
Sukhani (सुकेय्नी) is the name of last village of Warwan bordering Anantnag.
Tun (तुन) is the name of last village pf Padder bordering Himachal Pradesh.
In 1905, Islamia Faridia Higher Secondary School was established.
In 1960, Adarsh Bal Niketan High School was established.
In 1974, Bharty (भारतीय) Vidhya (विद्या) Mandir (मंदिर) High School was established.
In 2001, B.Ed College establishes.
In 1986, Degree College opened in Kishtwar.
In 1881, Sapphire mines discovered.
Om Mehta was the first M.P. from Kishtwar.
Krishna Mehta was the first lady M.P. from Kishtwar.
Maharaja Pratap Singh opened the first Govt. School in Kishtwar.
There are19 no's of High Schools in Kishtwar in which 17(boys) and 2(girls) schools resp.
The number of higher Secondary Schools in Kishtwar are 14 in which 12 are boys HSS and 2 are girl HSS.
The total number of Educational Instituions in Kishtwar is 256.
Dul Hasti Project is located in this area.
In 1958, first vehicle entered into Kishtwar.
The driver of this vehicle was Budhi Singh.