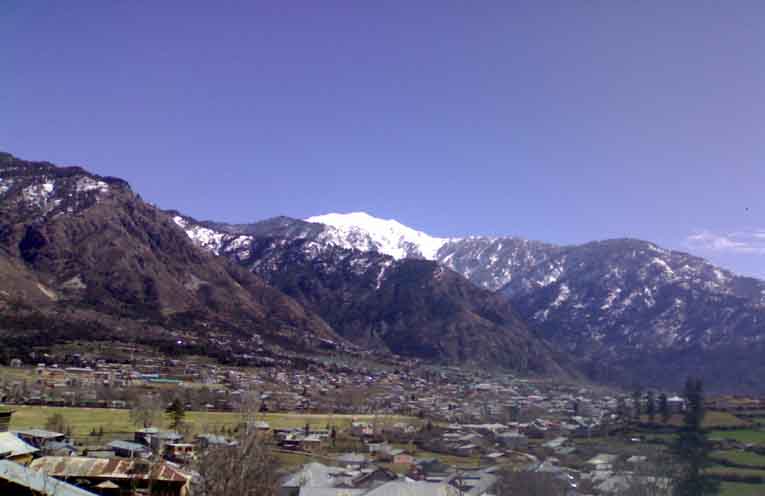 Tatapani
, translated from Hindi as "
hot water
," holy hot springs. Like most holy hot springs in India, they come with a story:
Seven thousand years ago, during the times of the
Mahabharata
the elder brother of Krishna, Balram came to the valley in the form of a sadhu wanderer named Sheshnag. Sheshnag was one of the naga sadhus, feared and respected as possessing mystical powers relating to water and snakes. One old lady, Ruti, a local queen whose husband king had died, did not respect Sheshnag. When he asked for some land, Ruti said "no" and hit Sheshnag in the eye with a spade. She continued to be stubborn, so he stabbed his trishul trident into the ground. When he pulled it out, a flood destroyed all of Ruti's land and crops.
Another local Rana king came from a place called
Jaar
to Sheshnag and begged for mercy, asking that the flooding stop. Sheshnag then said: "I'm leaving this place and there will be a stone where I meditate tonight and hot water will ooze here-build a temple here."
The stone appeared in his form the next day, along with a hot spring, so a temple was built. The temple today houses the stone of Sheshnag along with a three-inch tall Buddha, conch shells, holy water, ritual bells, tinsel, trishuls for visiting priests, and Shiva and Hanuman posters.
The wooden temple is constructed using a design from Spiti, with carvings on its front and back. The carvings of most Hindu temples in the valley follow this format, with some deities added others subtracted, depending on the size of the temple. In the front is typically the image of Sheshnag, the carving of Hanuman the monkey god (symbolizing strength), and an image of Ravana, the demon from the
Ramayana
, and forms of Ram, the hero from the
Ramayana
, and Shiva, with his trident. At the top are two eyes, representing Mahakali, the Earth Goddess. The springs below the temple bubble with sulphurous heat, perhaps near boiling at the source. A rock floor using stone tongue-and-groove creates a basin that holds water, with excess water flowing into an adjacent room with hot and warm pools for bathing. In the center of the spring is a wooden plug to drain the pool.
Once every three years, on the full moon in the darkest and coldest of months (January or February) a family from Chito village comes to clean the springs after midnight. A local fair is held for this ritual celebration. The plug is removed for the cleaning and replaced with a new one. This ritual supposedly began when Sheshnag went to Chito village asking for help to clean the springs. There he met Chito Devi who went with four or five other villagers. Since then, the villagers of Chito walk from the Padder Valley to Tatapani through the snow, passed from generation to generation, faithfully.
.