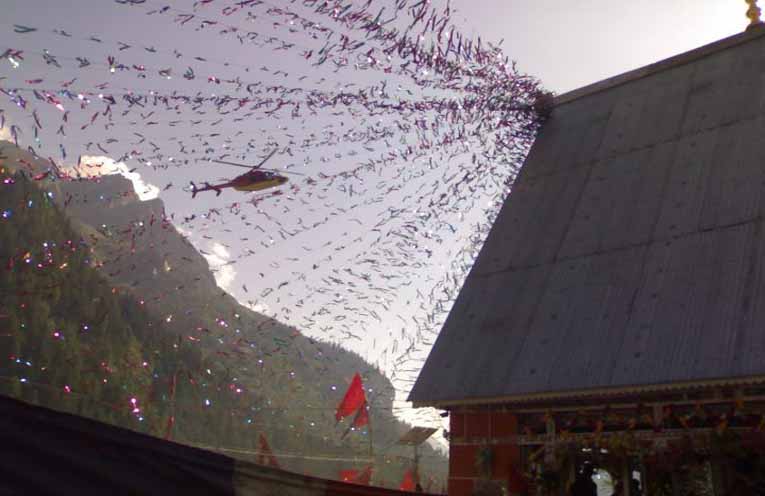 Heli Services for Hudh Mata Yatra and Machail Yatra : 2018
The heli services for  Hudh Mata and Tri-Sandhya Yatra  will start from 18-07-2018 to 23-07-2018 and  for Machail Yatra, services will start from 25-07-2018 to 05-09-2018.
Tariff for both the circuits are given below : –
These ticket/tariff price offered only for Kishtwar-Kaikoot-Serchi-Dachhan and Kishtwar-Gulabgarh-Machail Sectors respectively.
Machail Mata :
The Maa Durga Sathan popularly known as Machail Mata derived its name from the village Machel where the temple is located. The village Machel is located in the district Kishtwar of Jammu and Kashmir (India).
In 1834, Jorawar Singh had sought blessings of Maa Durga at Machel before advancing to Laddakh in 1834. Zorawar Singh had no trouble in crossing the mountain ranges and entering Ladakh through the source of the Suru River where his 5000 men defeated an army of local Botis. After his miraculous victory he became faithful devotee of Maa Durga. Maa Durga is supposed to present in 'sakshat roop' in the Temple Of Machail.
Time taken by Helicopter
Gulabgharh to Machail by Helicopter  8 minutes.
Machail to Gulabgharh by Helicopter  8 minutes.
Distance from Gulabgharh Helipad to major cities approximately:
Kishtwar to Gulabgharh     –   45 Kms approx (2 to 3hrs)
Jammu to Gulabgarh via Kishtwar  –   275 Kms approx ( 8 to 10 hrs)