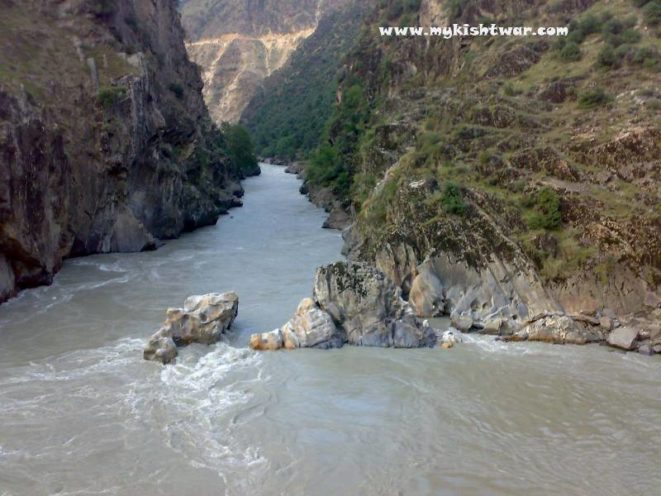 The Chenab is the biggest river of this place. Chenab means water coming from China. Chenab name has been drawn from Persian language. River Chenab, Asikini of Vedic age or Chander Bhaga of Kishtwaris, takes its rise from opposite side of Bara lachha Pass at a height of 5100 meters in Lahul Sipti of Himachal Pradesh. Chandra rises in Lahul and Bhaga rises on the North Western slopes of the pass. After traversing 88 Kms the Chandra joins Bhaga near Tandi after flowing 104 Kms. Now the united streams known as Chandra-Bhaga river flows through Pangi valley of the erstwhile Chamba stateand then enters Paddar at Sansari in Kishtwar district at ab elevation of 6000 feet. It flows Padaar, Kishtwar, Doda, Ramban, Akhnoor till it enters Pakistan where it joins Jehlum and Sind rivers. From Bara Lachha to Akhnoor it traverses about 611 Kms (380 miles) between steep mountains and then through the lower hills. It is the biggest river which flowd through Doda region. In its way it is joined by its various tributaries, notable among these are Bhotna Nalla joining it at Gulabgarh (Paddar), Mariv Sudir joining at Bhandarkoot (Kishtwar), Kalnai at Thathri, Neeru at Doda and Ans at Arnas (Udhampur). The only canal drawn out of Chenab for irrigative purpose is the 'Ranbir Canal' which irrigates land in Jammu, Kathua and Samba districts.
Cheenab River
Mariv Sudir or Marwah river is the second big river of Kishtwar, which takes its rise from Saga Glacier near Bhot Kol at a height of 4421 meters above sea level. It runs through Warwan, Marwa, Dachhan, Palmar till it jons Chander Bhaga at Bhandarkut. Bhot Kol is also called Lanwilla Pass. In Chatru the Sigdi Nullah and Gurien Nullah are bigger ones. All these Nallas fall into Chatru Nullah. From Chatru side a rivulet 'Chatru Nullah' joins Marwah river at Dadpeth. Many small streams and Nullahs join the river Warwan including Reny Nullah, Kyard Nullah, Nath Nullah, Pinjari Nullah and Chhatroo Nullah.
The Chenab is a very fast river. No canal has been drwan from it in district Kishtwar. The fields situated on its banks crave for a drop of water from it. However this river is of great help in carrying the timber extracted from the forests to plains. The name of the Chenab is not only connected with the famous love story of Shni and Mahiwal but its name 'Chandrabhaga' also stopped the aggression of Alexander the Great. The Greek called Cahandrabhaga as Sandro Fagus, with which a story of one of the expeditions of Alexander the Great is also attached. The English translation of the Greek word is Devour of Alexander which is the destroyer of Alexender. The Greeks considered it a bad omen and decided to return. As a result the remaining part of India was saved from the invasions of Alexander due to existence of Chenab.



Kishtwar has great potential for generating electricity over river Chandra Bhaga and its tributaries like river Mariv Sudher in Marwa, Bhutnala in Padder, Naigud Nala in Nagseni, Chatru Nala etc,. Many streams flow down from high altitudes and join the Chander Bhaga. Thus the scope for generating electricity at various places over this river in Kishtwar district has widened. Although Chenab alone has a potential of generating 20,000 MW of electricity but unfortunately, this has remained untapped so far.
Bhandarkoot (Sangam point of Mariv Sudhir and Chander Bhaga Rivers)
Only Three Hydro-Electric projects namely Dul-Hasti (390 MW), Bagliar-1 (450 MW), Salal 1 and 2 (690 MW) are in operation at present with a total generating capacity of 1530 MW. The other Hydro-Electric projects in the pipe line for execution are as under:
1. Raatil (Kishtwar) 690MW
2. Bursar (Marwah) 1020 MW
3. Pakkal-Dool (Marwah/Kishtwar) 1000 MW
4. Barinium 240MW
5. Karthai 1 and 2 (Padder) 560 MW
6. Kiroo (Kishtwar) 600 MW
7. Kwar (Kishtwar) 520 MW
8. Shamnote 370 MW
9. Baglihar-2 450 MW
10. Sawalkote 1200 MW
The figures given above demonstrate the importance of Doda region for the country in the context of the supply of energy so important for the development and prosperity of Kishtwar District.
Water Supply sources details in the district (Number of Households)
Source

Kishtwar

Total
Rural
Urban
Tap
10206
7069
3137
Handpump
120
120
–
Tubewell
–
–
–
Well
–
–
–
Tank,pond,well
–
–
–
River,canal
–
–
–
Spring
175
175
–
Any other
85
85
–
Within Premises
6659
3669
2990
Near Premises
3547
3400
147