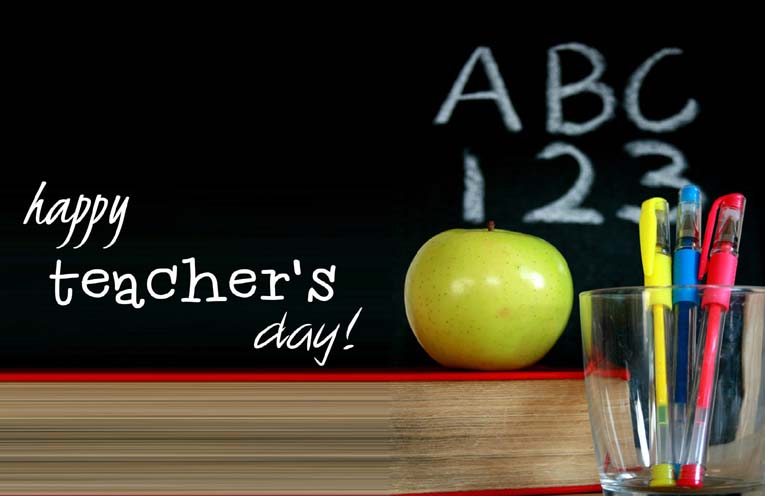 September 5th of ever year is celebrated as "Teachers Day" in our country. It is a mark of tribute to the valuable contribution of teachers to the society. It is also the birthday of a renowned teacher, a great visionary, philosopher, diplomat and scholar Dr. Sarvepalli Radhakrishnan – the second President of India (1962 to 1967). It was on his suggestion that his birthday is celebrated as Teachers day. It is said that when some of his students and friends approached him with the request to allow them to celebrate his birthday, he said, "Instead of celebrating my birthday, it would be my proud privilege if 5th September is observed as 'Teachers' Day". After this, since 1962, September 5th is celebrated as Teachers day.
      On this day, teachers and student report to school as usual but the usual activities and class work are replaced by activities of celebration, thanks and remembrance. Activities that are held in the school include a get together for teachers and students where students play hosts, special assembly for honoring the teachers, acknowledging their contribution to the society, school premises is decorated with banners displaying messages and quotes of great teachers and students act as pseudo teachers thereby giving their teachers an off-day to feel privileged. This is usually followed by teacher's day greetings, quotes, songs, write-ups, speeches. Thanks and remembrances are going to be extended this year also to the great teachers of India who were instrumental in shaping the destiny of the country. Usually , essays and speeches depicting the contribution of great teachers like Sarvepalli Radhakrishnan, Rabindera Nath Tagore, Chanakya, Dronacharya, APJ Abul Kalam, Jyoti Rap and Savitri Bai Phuley, Asima Chatterji, Gopi Chand, Anand Kumar, are written and delivered in schools to mark the day.
      With a lengthy stint of more than fifty years as a teacher in various capacities, I want to share some of my experiences on the occasion of the Teachers day. In the first instance, I extend my heartiest congratulations to all who have embarked on the noble job of a teaching. We have a legacy of great world renowned teachers names of some of whom I have already mentioned. A humble beginning can be made by treading their footsteps if we have the will. In his book 'Wings of Fire', Dr.APJ Abdul Kalam is of the opinion that to become a good teacher, we must always put his or her students ahead of themselves, encourage questions from students and explore their capabilities.
Dedication and commitment of great teacher like Anand Kumar and Mahavir Singh Phogat in the present day India should serve as a  beacon light for us all. In 2002, Anand Kumar came up with the idea of Super 30, wherein he would select 30 students coming from under privileged section of society and provide them coaching free of cost for the entrance examination to IIT and JEE engineering courses. More than 350 students have so far reached IITs since then from Super 30. Similarly another great teacher, Mahavira Singh Phogat has provided the country with six wrestling champions – all women. Let us take a leaf out of their will power, dedication and commitment to society. Teachers handle wet clay in the form of students and shape the future citizens who are responsible, morally upright and good human beings. A teacher must not forget that he/she is the visual  source of knowledge for his students. I shall not be doing my duty if I don't point out the short comings which we have been experiencing in our education system. Falling standard of education, indiscipline in institutions of learning, lack of dedication and commitment among teachers, absenteeism especially in rural schools are matters of grave concern.



      No doubt lack of infrastructure in the form of school buildings, play grounds, libraries, laboratories and other equipment in the Government run institutions are also contributing to falling standard of education while private
schools are thriving at their expense despite the fact that teachers in Government schools have better qualification and pay scales as compared to their counterparts in private schools. We need good quality of teachers having good pay scales, there is no doubt about it, but the lust of money should not deter the teachers from performing their legitimate duty in the class room. What we experience today is that the missionary spirit, professional competence and zeal for learning have taken a back seat and lure of money has led the teacher astray and given rise to malpractices in the class room and the examination hall. Money cannot bring respect to us; it is only the missionary spirit, dedication and professional competence and above all an impeccable character which can restore the teachers their age-old honor and respect.
     Our Prime Minister, Narendra Modi has rightly said, 'Teaching is not a profession but a way of life'. We the teachers have to ensure that the proverbial bond between the teachers and the students gets strengthened day by day.In my opinion three basic principles are a must for every teacher. They should be ardent lover of their students irrespective of their caste, color and creed, they should love the school where they work, they must have immense love for learning and lastly, I am reminded of a word of advice given to teachers by late Dr. Zakir Hussain, a great educationist and former President of India when way back in the year 1961, we as B.Ed students of Govt. College of education Jammu called on him at Raj Bhavan of Bihar, when he was the Governor of Bihar, during the discussion on the then education system, he uttered a couplet in Urdu as a piece of advice to the teachers. He said, 'Tere rui me chaar binoley, sub se pehle unko dho ley'. (while on the path of imparting education, a teacher has to subject himself to regular introspection, detect deficiencies in him and get rid of them.)