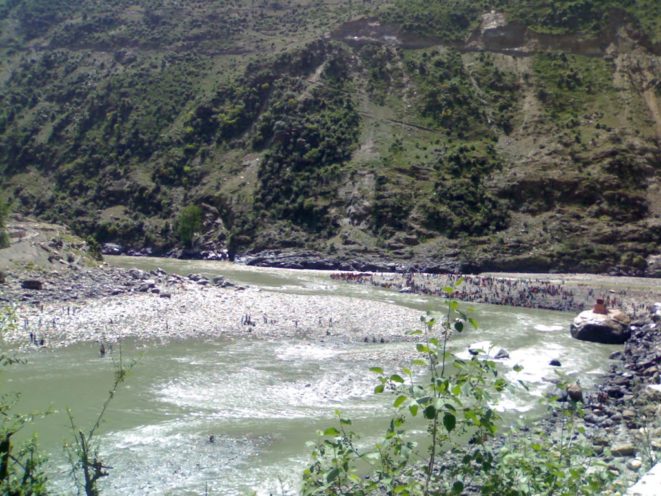 The place is situated at a distance of about 12kms from Kishtwar town on Kishtwar-Synthen-Anantnag road. The word 'Bhandarkoot' literally means 'Store room'. An old fort which is in ruins today on a hillock, seems to have been constructed by some local chieftain for the purpose of storing of grains in peace time and for using for security during any foreign invasion. Some historians are of the view that Mughals and their army commander used this fort during war with Kishtwar Rajas. They agree that this existed there prior to the invasion of Kishtwar by Mughal army.
A little down below the fort, is the place of confluence opf two big rivers of Kishtwar, the Chander Bhaga Emanating from Baralacha glaciers in Lahul-Sipiti (Himachal Pradesh) and the Marivsodar emanating from the glaciers of Lanwila (Bhot-Kole) of Warwan respectively. The site of the confluence is revered by all irrespective of caste or religion and to have a dip here is considered as very auspicious. Hindus perform the religious rites of the dead on the banks of the river, due to which this place is always abuzz with activity. A big mela is held here on baisakhi every year. After a dip in the 'Sangam', the visitors pay their obeisance to the two most revered religious places, the Astaan of Shah Zain-ud-Din on the left side of ChanderBhaga, and the ancient 'Neel Gangeshwar' pond and the temples of other Gods and Goddesses on the right bank of the river. These two places of religious importance attract thousands of pilgrims not only on Baisakhi but for the whole year round. Cocks and Sheep are offered at the Astaan by both the main communities for taking the blessings of the great sant.
Bhnadarkoot, thus, is symbolic of complete mutual brotherhood and communal harmony. A small army cantonment at the place has added to the hustle and bustle the place. The scenery around Bhandarkoot us quite charming. This is an ideal place for rock climbing.