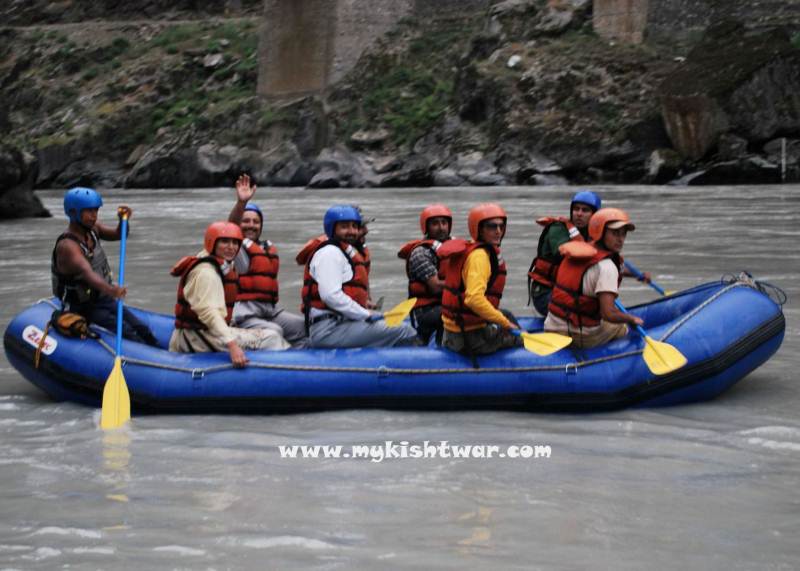 Bonjwa, Saroor, Chatroo, Dachhan, Marwah, Warwan and Padder valleys of Kishtwar districts have immense adventure-potential. It is along these valleys that the Trans-Himalayan-Trekking Trails leading to sure and Zanskar valleys of Ladakh and Kargil one side, to the Kashmir Valley, Himachal Pradesh on the other pass amidst breath-taking mountain scenery comprising lush-green meadows, dense forests, rich in flora and fauna, humming heights talking to the sky, alpine pastures in the lap of high level mountains where sight of neighing horses, bellowing cattle, bleating sheep and goats mesmerizes the trekkers.
In the absence of road-connectivity, these places of tourist interest have remained virgin and un-explored so far, If connected properly, tourists will find a number of places which are matchless in natural beauty and grandeur. Kishtwar is a major mountaineering base of Jammu and Kashmir and is surrounded by an incredible number of high mountain peaks. The wall up to the base camp of most of there peaks takes 2 to 4 days journey on foot Ikhala and Gulabhgarh, the last bus-stops on Kishtwar-Marwah and Anantnag road and Kishtwar-Padder road respectively .
The main mountain peaks, whose height is more that 55oo meters above sea level are the following:
Name of the peak                  Height                                Location
Nun                                     7135 Mtrs                          The twin-peaks are between
Khun                                   7877 Mtrs                          Warwan and Zanskar
Bernaj I                              6240 Mtrs                           Bernaj Nalla of Haloti Padder
Bernaj II                             6280 Mtrs                            Bernaj Nalla of Haloti Padder
Arjuna                                 6230 Mtrs                           Chachal Nalla Of Chishoti
Crooked Fingure                5630 Mtrs                            -do-
Chapra                                5600 Mtrs                            Bhujanoo Nalla in Padder
Shivling                               6000 Mtrs                           Bhujas Nalla of Machail
Bobang                               5971 Mtrs                           Kijayee nalla of Padder
Hagshoo                             6330 Mtrs                            Chachal Nalla of Chishoti
Flat-top                               6100 Mtrs                           -do-
Agyasol                               6200 Mtrs                            Kabban Nall of Padder
Brahma I                             6416 Mtrs                            Nanth Nalla of Dachhan
Brahma II (Dreikant)            6425 Mtrs                           –do-
Brahma's wife                     5729 Mtrs                            –do-
Cathedral                             5635 Mtrs                            Kiyar nalla of Dachhan
Sickle moon                          5575 Mtrs                            -do-
Eiger                                     5513 Mtrs                            -do-
Tupendu  I                             5700 Mtrs                             -do-
Tupendu  II                           5600 Mtrs                              -do-
In addition to the above, equal number of un-named peaks having a height of more than 5000 mtrs.  also exist. Locals as wall as the foreign mountaineers have been attracted by these sky talking peaks of Kishtwar since the year 1946.
The area was first explored for climbed by two Austrians Fritz Kolb and Krenek in 1946, who were held up in India at the outbreak of world war 2. Till the time they waited for their passage home, they went off to Kishtwar and succeeded in scaling Brahma 2 and christened it as 'Dreikant'.  Mountaineers like Mick Flower and Andy Perkins have also attempted some peaks like 'Cerro' in Kishtwar. 
Climbing on these peaks was closed foe sometime but Kishtwar was re-opened for climbing in the early seventies and in 1973, Chris Bonnington and Nick Escort made the first ascent of Brahma 1 via the south-east ridge. The first ascent of Sickelmoon was achieved in 1975 by an Indian expedition of the 'High Altitude Warfare School'.  In 1986, two lady members of French Expedition were on the summit as well.
The Japanese mountaineers were active in the late seventies in Bernaj Group which lie in the eastern part of Padder valley. Hagshu was attempted by John Barry and his team four times without success.  During the late seventies and early eighties, one of the major Indo-British expeditions led by Chris Bonnington and Balwant Sandhu climbed the Sickelmoon and made the area quite popular as a climbing destination. These mountain peaks remain snow-clad during a major part of the year and provide sufficient waters to the Chander Bhaga (Chenab) river passing through Paddar Valley and to Mariv Sodar passing through Warwan-Dachhan and Marwah valleys, thus, making the Chenab Basin, the richest source for the generation of Hydro Electric power in J&K.  it is estimated that 'Chenab' has alone the potential to generate twenty thousand megawatts of electricity.
In addition to these mountain peaks, high altitude mountain passes, giving connectivity to various regions of the state, provide a thrilling experience to the trekkers and the nomadic tribes who move from one place to another along with flocks of sheep and herds of cattle for finding summer pastures. Trekking along beautiful circuit of Kishtwar-Dachhan-Marwa-Warwan-Anantnag and back to Kishtwar via Synthen Pass was got started by Late Shri Om Mehta. Kishtwar in general and Dachhan, Marwah, Warwan and Paddar in particular have ideal sites for aquatic sports like water rafting, Kayaking, Waterskiing and Ice-Hockey. Paragliding and rock climbing can also be introduced as major sports in the slopes of Kishtwar town, Bhandarkot, Dachhan, Marwah, Warwan and Padder areas. The ideal course for paragliding in Kishtwar town can be developed on the slopes between Kishtwar town and 'Kalam-Sathar' a picturesque spot on the top of a hill to its north side. The water body formed at village Dul, at the Dam site of Dul-Hasti Hydro-Electric project has provided ample scope for development of this place for aquatic sports.
The main mountain passes in Kishtwar district, linking it with various parts of the state are the following:
Name of Pass                         Altitude                Link
Synthen Pass                      3784 Mtrs.              Kishtwar-Anantnag
Singpora/Marbal Pass         3670 Mtrs.              Chatroo-Anantnag
Nandmarg Pass                  4300 Mtrs.               Chatroo-Ramban
Margan pass                       4470 Mtrs.               Marwah, Warwan-Anantnag
Lanwila Pass                       4421 Mtrs.               Warwan-Zanskar(Kargil)
Umasila Pass                       5340 Mtrs.               Machail Paddar-Zanskar (Kargil)