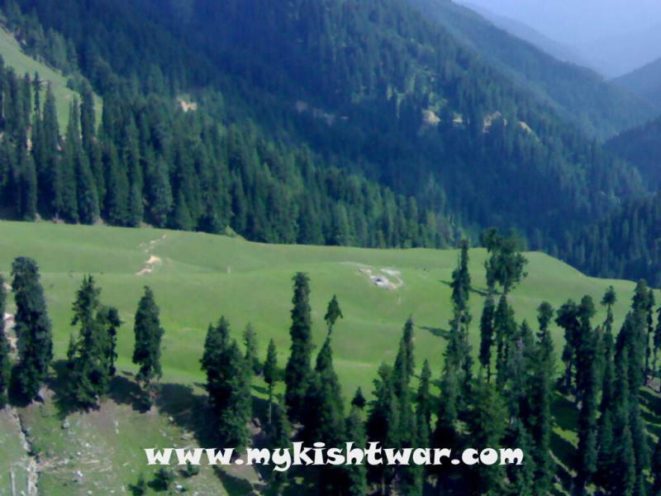 Marwah, a newly carved sub-Division of District Kishtwar J&K, is well known destination in entire state due to its peculiar cornerstone and wound up territory of Jammu Province. This Sub-District is one of the largest administrative entity not in District Kishtwar but in J&K state having more than forty thousand population and scattered area right from gateway Karoor (Dachaan) to Sukhnai (Warwan). The entire marvelous valley presents panoramic view in every facet. So, the Marwah is rightly earmarked as "The Valley of Peace & statuesque or Switzerland of Jammu or Chotta Kashmir."
  Since dust & dawn of independence Marwah is still possessing ancestral topological endurance with marginal abrutions. The complete chaos prevalent in said region best known to time legislators, might they considered it as better contingency   to hoard of vote bank unit. In common parlance, Marwah –a sub-District used to uphold their realism since inception of democratic system in India. The Line Departments having acute abstains from this area and one could notion its percentage of development. This destination in one way or another pretext always ignored by successive government and every passing year led Marwah towards embrace of DARK AGE. The complete requisite tenets are conferred here, to interrelation picture of recent Marwah. Marwah –a seat of Sub-Division Magistrate (SDM) comprises Three Tehsils via-a-vis DAcchan, Marwah & Warwan. Five Niabats, Three Blocks, Twenty-eight Panchayats etc. The chesterfield of administration is currently dominion by Sh. Sanjeev Sharma & discharging his obligations best to his capacity even lacking fundamental facilities to run smoothly work. The aforesaid head of administration wants to give new orientation to this remotest region.  While other departmentsare working on the different echelon of internal adjustment or holding additional charge by concerned district officer to draw pay for inferior employees. The Marwah is backward mainly due to absence of motor able road connectivity. Villagers desperately need link road from Dangdroo (Dachhan) to Nowpachi (Marwah). Second road link constructed recently from Gowran (Anantnag) to Nowpachi Marwah is a seasonal & narrow road though people had demanded further up gradation of said road. The dwellers since decades urged upon govt to construct motor able road via Dacchan to cater overall need of road connectivity. But due to diligent conspiracy hatched pretext to or other, the road connectivity viz Dacchan is now healthy dream only & legislators pleaded differently. In last District Development Board meeting Headed by Hon'ble Chief Minister Mufti Mohd Sayeed ordered for stable feasibility of road link to this uncovered area. But, same remained announcement no survey had conducted so far.  With onset of 2015 a changed atmosphere period, common masses notion perpetual and conducive atmosphere will be available but still same words/assumption were heard with new faces and people undergone solemn dilemma on account of lacking principal road connectivity. Though Govt tried to connect said area with district headquarter via Sinthan-Margan Top but said connectivity ply for 3 or 4 months only. Even during consecutive two year, down to the closure of road claims number of precious lives. (All the Rest in Peace). Such incident is inevitable and destiny until concrete construction of motor able surface road link. Ostensibly, curtain are removing regarding development map ofMarwah till 2015.Due of reluctant of backbone so called Motor able road, all vital sectors are absolutely defunct. The foremost facet of worldlargest employment generating industry herein term as "TOURISM" having ample presence in this area. But, unfortunately no comprehensive action plan mooted by successive government to explore hidden beauty. This can be gauged by this fact that no Tourism Development Authority has created here, in order to attract enormous tourist of state & National even international. Owning, that detailed survey should be conduct to explore all such destination of venerated potential to fascinate nature lovers. Besides, add up this region on tourist map of both national & International level.
  Marwah, the name mention in Rig Veda, derived from word "MARIEV"means Continuous flow of River and having stupendous potential of hydro-electric power generating capacity. But said is still utilizing primitive kind of lighting devices. Although river Mardsudhar flows through this power harnessing hub via Mard from Warwan valley and sudhar from Sudhar village of Marwah. Both these joined at base point Nowpachi popularly known as "MARDSUDHAR" which later on associated with river coming from Padder at Bhanderkoot Kishtwar nomenclature as Chander Bhaga or Chenab Or Asikni. The estimated power generating capacity of Chenab river is over 20,000 Megawatts. Out of which nearly 20-30% could harness river Mardsudhar of Marwah along. Time to time survey pertaining establishment of HE power project conducted. Yet no fruit full results derive out. The inadequate and inefficient attitude of concerned authority shows their efficacy and thereby divulged their fanfare or bitterly known as Gimmicks upon power project.  The need is too explore all options of power generating projects in order to become self reliant in this important sector. The penultimate facet of life is education sector, but unfortunately said aspect is worst condition in Marwah. Govt opened enormous number of schools under different state and center sponsored schemes, but all are lacking basic amenities. However, quality of education is absolutely null. Parents feel dissuaded with regulation of education norms in said area. A basic problem reported is tendency of teachers to give good marks in examination of lower classes in order to show result of Excellency. Inhabitants demanded that such tendencies should be checked since weakness appears in higher classes say after Middle Standard classes. Number of teachers was not reporting for duty properly and action was taken by District authority by suspension followed by quick reinstating. Some demands of teachers are genuine. They asserted that we compelled to teach subject though they are not competent with required degrees. The concerned authority should check and balance such practices at gross root level to avert mess in Education Department. The rationalization concept of equated teacher student ratio is not sighted anywhere in Marwah.
 Notwithstanding, contemporary provisions are made to run routine school affairs. Funds under different flagship programmes of education department should used judiciously to register aims & objectives of defined schemes. The dwellers categorically demanded for immediate vehement remedial measures should take in this sector. So, their wards got distinguish education at doorstep. They reiterated that special squad should placed to check opera mandus of teaching fraternity .The area having Govt Degree College too, but condition of said college is no better than Primary school. There is need to check record of said college to determine its nature. Similarly, the livehood sector of residents of Marwah is also facing imprudent engrossment from Govt. Thus, complete deterioration of Agriculture and allied sector is witnessed day by day. Almost 95% above inhabitants directly survived upon agriculture and allied like Horticulture, Animal & Sheep Husbandry, and Apiculture etc. All of said organs of Agriculture having exquisite presence in Marwah. But the Govt has done nothing to revamp such stratum. If Govt cognizance such a vital sector, tremendous jobs could be generate by engaging local youth to decline ratio of unemployment. Stating in discouraged way, that no synoptic action plan never broached. Community equivocally demanded setting up Research, Studies & Diagnosis center aegis by SKUAST-Jammu. They advocated that expert panelist should be posted in that campus and people directly exertion their alien services and exhilarating experiences in field like Agriculture & allied. Citizens are hopeful that their genuine demand will soon fulfilled for overall committed development & growth of Marwah. Writer of this article also appealed to Hon'ble Chancellor, Pro-Chancellor and Vice-Chancellor of SKUAST – Jammu to depute high empowered committee to explore relevant modalities regarding upliftment of Agriculture & allied sector.
 Therefore, above cited matter clearly reflect development drawing of Marwah. There exists same kind of uncertainty in affaires of other departments, shown their presence by name, not their plan & execution.But Billion dollar questions are: When fate of Marwah will change? When clouds of Dark Age will dethrone from Marwah? When ray of 21ist century known as age of knowledge, communication and Development will testifier at Marwah? When barrenity of Marwah will turn into gravid/generation? There are indefinite questions revealing Eco-Scio-Political depict nature of Marwah. In nutshell, 2015 year also remained same year as witnessed since six decades for Marwah and only fanfare made by successive legislators though different way. The competent authority should recognize their obligation and made concerted efforts to revolutionize Marwah into Hub attracting vendors from Scio-Economic Political strata of society. Essence is threadbare study be made to refurbished every nook of Sub-Division Marwah.
  Leaving this topic with this sanguineness  that 2016 will be year for Marwah Concentric  affairs and thereof significant heights attained in each wedge.
Lets windup this article will famous poet quote:- "NAHIN HAI NA-UMEEDIQBAL APNI KISHT-E-WEERAN SE ZARA NAM HO TO YEH MITTI ZARAKHAIZ HAI SAQI"
 Authored By:- Lone Yassir Rashid
Mob. 9419614706
Email: mwdsjk@yahoo.in
 We shared this article for information purpose only.
All the contents of this article is copyrighted to Author : Mr Lone Yasir Rashid